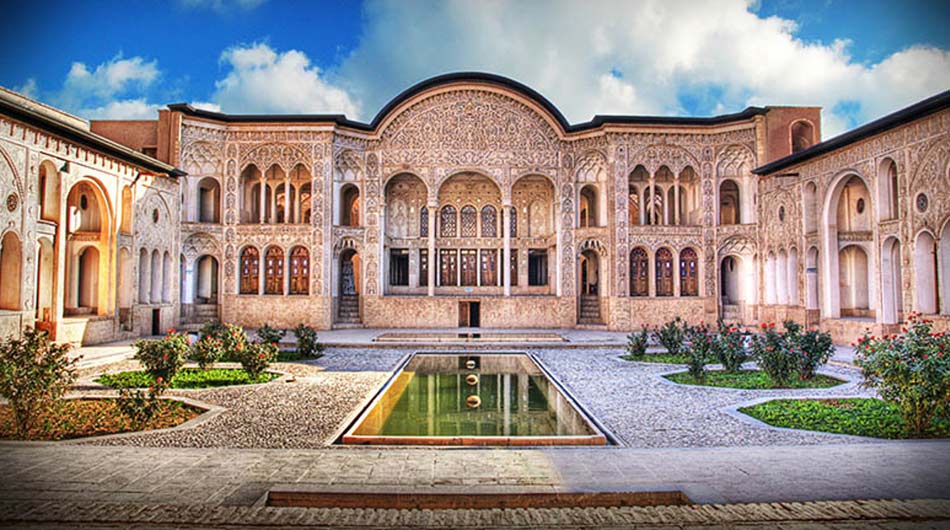 Kashan, a picturesque city in Iran's Isfahan Province, is renowned for its rich history, stunning architecture, and a deep cultural heritage. One of the city's most significant attractions is its traditional houses, which reflect the grandeur and elegance of Persian architecture. In this article, we will explore some of the most famous traditional houses of Kashan, each a testament to the city's architectural and cultural legacy.
Tabatabaei House (Khaneh-ye Tabatabaei)
Tabatabaei House, an architectural masterpiece, stands as a symbol of Kashan's rich heritage. Built during the Qajar era, this house showcases the finest examples of Iranian residential architecture. It is renowned for its intricate stucco work, dazzling stained glass windows, and lush gardens that offer a tranquil escape from the bustling city.
The central courtyard, adorned with a reflecting pool and surrounded by chambers, provides a sense of serenity. The symmetrical layout of the house and the use of geometric patterns in its design reflect the meticulous craftsmanship of the time. Visitors can explore the intricacies of Persian architecture and appreciate the fusion of art and functionality.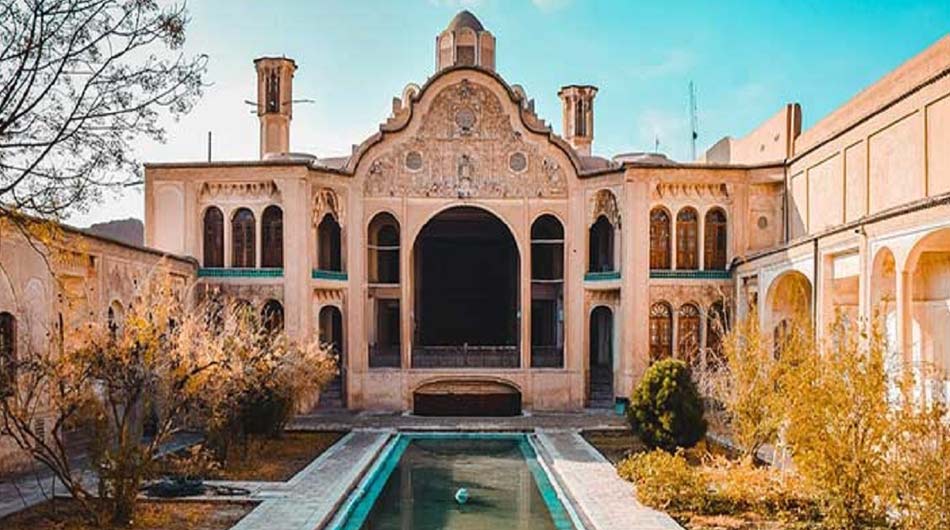 Borujerdi House (Khaneh-ye Borujerdi)
Borujerdi House is another jewel in Kashan's architectural crown. This historic house was built in the 19th century by architect Ustad Ali Maryam for the affluent Borujerdi family. What sets this house apart is its magnificent wind-catcher (Badgir), an iconic feature of Iranian architecture designed to naturally cool the interiors.
As you step inside, you'll be greeted by ornate ceilings, elegant stained glass windows, and beautifully decorated alcoves. The interconnected rooms and courtyards form a harmonious space that offers a glimpse into the daily life of the residents. Borujerdi House stands as a prime example of how architectural innovation met aesthetic beauty in Kashan's traditional houses.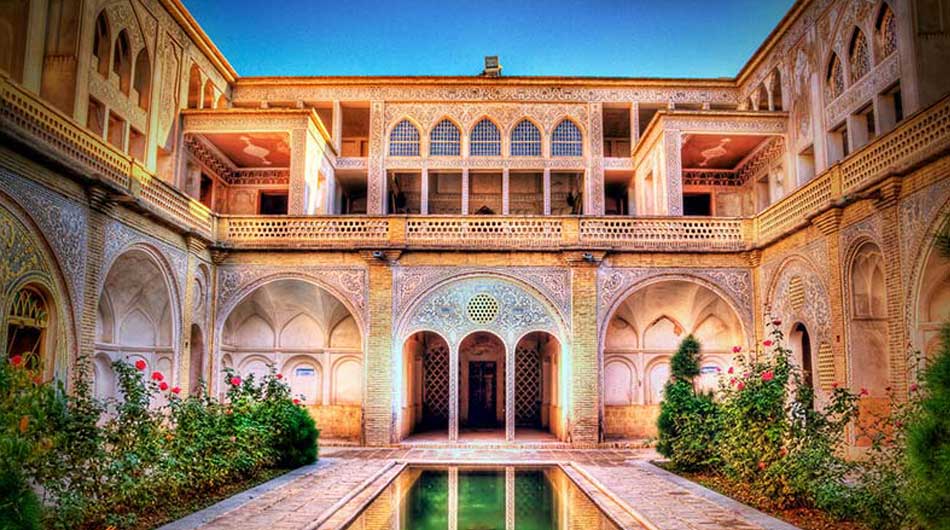 Abbasian House (Khaneh-ye Abbasian)
Abbasian House, often called "the bride of Iranian houses," is a testament to Persian architecture's grandeur. This opulent residence was built during the late 18th century and is celebrated for its meticulous design and exquisite details. It features a delightful blend of traditional Iranian elements, including frescoes, stucco work, and impressive wooden doors.
One of the highlights of Abbasian House is its Hammam (bathhouse), which showcases the ingenuity of Persian engineering in temperature regulation and water distribution. The house also boasts a delightful courtyard garden, where visitors can appreciate the harmonious fusion of nature and architecture.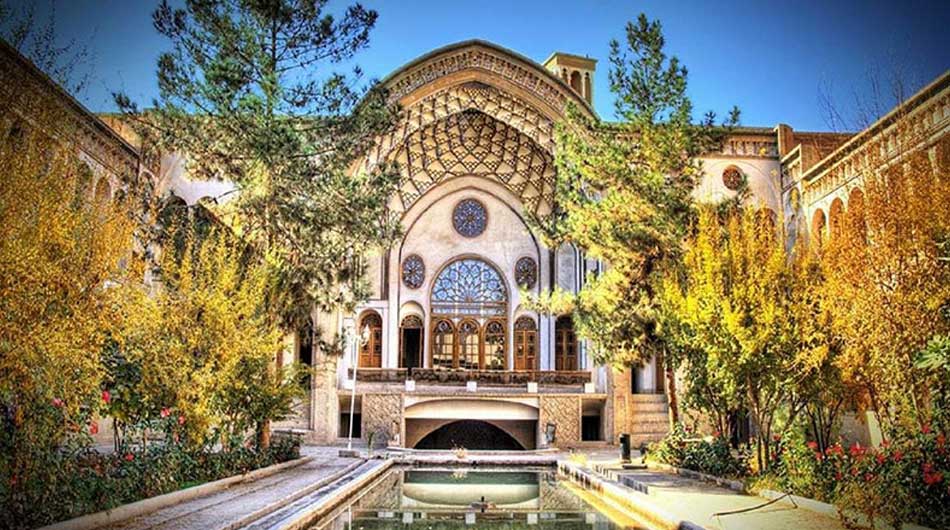 Ameri House (Khaneh-ye Ameriha)
Ameri House, formerly known as Ameriha Mansion, is a magnificent residence that reflects the grand lifestyle of the Ameri family during the Qajar era. This historic house boasts an impressive wind-catcher that regulates the temperature, providing cool breezes during the scorching summer months.
The interiors of Ameri House are adorned with intricate mirror work, delicate paintings, and ornate plasterwork, showcasing the craftsmanship of the time. The garden within the house features a beautiful pool, creating a tranquil atmosphere where visitors can relax and savor the beauty of Persian architecture.
Tags:
Abbasian House
,
Adventure holidays
,
Ameri House
,
Best time to travel to iran
,
best tour operator iran
,
Borujerdi House
,
Cultural sites of Iran
,
Famous Traditional Houses of Kashan
,
Holiday in Iran
,
Iran
,
Iran Architectural
,
iran attractions
,
iran destinations
,
Iran sightseeing tours
,
iran Solo trip
,
iran tour
,
Iran tour packages
,
iran tourist attractions
,
Iran travel agency
,
iran travel expenses
,
Iran Travel Guide
,
Iran Travel Tips
,
Kashan
,
Kashan Attractions
,
must-visit Iran
,
persia tour
,
Tabatabaei House
,
top tourist destinations
,
travel to iran
,
travelling to iran
,
trip to iran
,
vacation packages
,
visit iran
,
خانه بروجردی ها
,
خانه عامری ها
,
خانه عباسیان کاشان
,
خاه طباطبایی ها
,
درناگشت