Summer 2013: Mount Damavand Climbing
The brief itinerary
MOUNT DAMAVAND GUIDED WALK
With this tour, we offer you not just a volcano but an emblematic volcano – perfect cone shape, beautiful, mighty, majestic – Damavand!
With its 5671 m. it is not only the highest peak in Iran, but also the highest volcano in Asia! Climbing a volcano is much more exiting than climbing a peak. Shrouded in myths and legends, volcanoes have always been subject of admiration and fear. Swarming up the steep lava slopes, making your way through sulfur vapors and mineral springs, glaciers and iced waterfalls towards the gurgling crater, which gives out heavy smokes, one boldly enters the territory of gods and nature's elements with devastating might.
SOUTH ROUTE ITENARAY AT GLANCE
DAY 1. Arrive tehran
DAY 2.begin walk to shirpala shelter at 2750 m and stay overnight
DAY 3. Trek to touchal peak 3964 m and back to tehran
DAY 4. Drive to Damavand and Gosfand Sara base camp of Damavand 3020 m
DAY 5. Start trek to 3rd bargah  4150 m
DAY 6. Start trek to ice fall   5100 m  Acclimatization date
DAY 7. Trek to peak  5671 m and descent to 3rd bargah and polor village back tehran
DAY 8. Tehran
Detailed itinerary:
Day 1.tehran   ( —-)  
Arrival Tehran meet and assist transfer to hotel .O/N
Day 2.tehran-tuchal  ( B/D)
After rest and breakfast transfer to Darband to start climbing to touchal peak .O/N shirpala shelter
Day 3.tuchal-tehran  ( B/L)
After breakfast climb touchal peak (3960 ) and back Tehran for rest at hotel .O/N ( group can use telecabin for descent )
Day 4.tehran-Damavand ( B/D)
After breakfast transfer to polor and drive to first camp of Damavand at Gosfand sara .O/N
Day 5.Damavand ( B/L/D)
After breakfast start trekking to 3rd bargah ( 5-6  hours & 4150 m  ) .O/N 3rd bargah
Day 6.Damavand ( B/L/D)
Acclimatization date , trekking to ice water fall and back to 3rd bargah . O/N 3rd bargah
Day 7.Damavand-tehran ( B )
Climb to peak 5671 and descending  to polor village back to Tehran .O/N
Day 8.tehran ( B )
end of tour or continue your cultural tour in iran .
BEST SEASON : JUN-JULY-AUG
WEATHER : http://www.mountain-
forecast.com/peaks/Damavand/forecasts/5670
ACCOMODATION:
Accommodation is dormitory style in mountain refuges. There can be up to 15 people in
One big room. Beds are often bunks but can also be one long platform with separate mattresses. Bathrooms and toilets are shared. You can see photos of shelters in attached files.
TRIP GRADING :
(Tough): At this level we recommend previous experience of trekking, preferably at altitude, and you need complete confidence in your physical condition and your ability to trek for many days without a break and be able to cope with difficult underfoot terrain such as scree, snow or difficult paths on steep mountainsides. Extremes of altitude and weather may also be encountered, and on some treks it may be necessary to use ice axe and crampons. Stamina is very important, as walking days can be from 6 to 9 hours or even longer on pass-crossing days.
SPECIALIST GEAR REQUIRED :
Necessary equipment: Personal climbing gear such as sleeping bag, mattress, etc. Warm jacket, rain gear, trekking boots, trainers and slippers, track-suit and warm hat, 2-3 T-shirts, 4 pairs of simple socks and 2 pairs of warm ones, cap and sun-glasses, flashlight, knife, matches, electric batteries, personal tableware.
For more information and price contact us info@iranparadise.com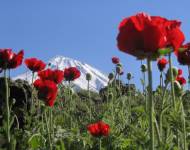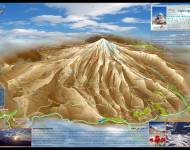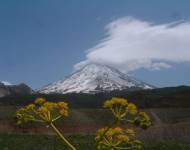 Reserve Now
This form is NOT a reservation for a tour. You will be contacted to discuss the availability of the tour times you requested and to confirm a scheduled tour. Thank you for your interest in visiting our tour.
[contact-form-7 404 "Not Found"]