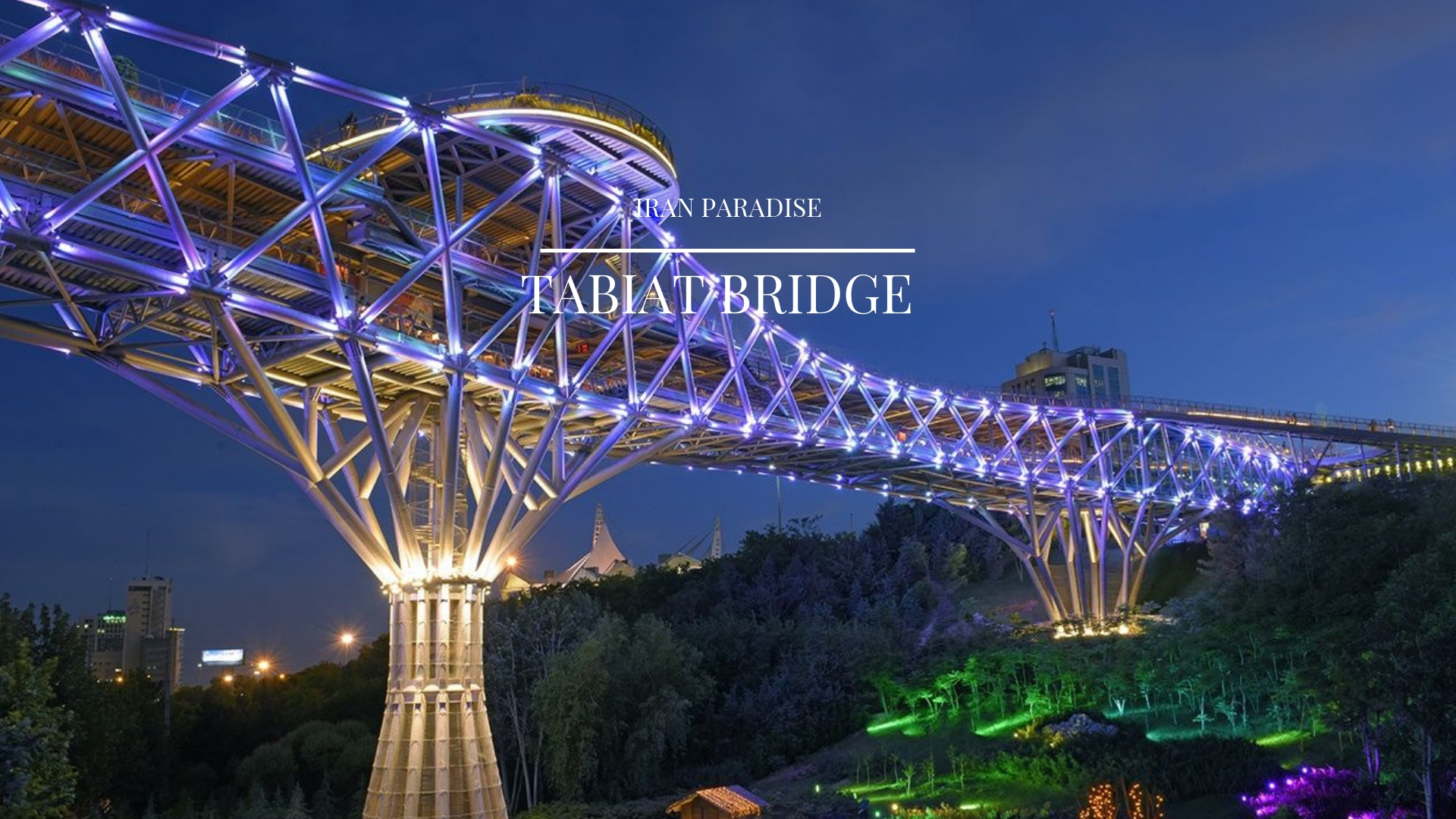 It's easy to see why this multilevel, sculptural pedestrian bridge, designed by Iranian architect Leila Araghian, has won awards and been a huge hit with locals. The 270m long walkway connecting Park-e Taleghani and Park-e Abo-Atash over the busy Modarres Expwy is a fun space to relax and, in good weather, it provides superb views of the north Tehran skyline against the Alborz Mountains.
Nature or Tabiat Bridge in Tehran is the biggest overpass for pedestrians in Iran constructed for connecting two public parks of Taleghni and Ab-o Atash (water and fire) via passing Modaress Highway which is one of the most important expressways in the capital city of Iran. Leila Araghian has designed the bridge and has won many prizes for her fabulous design such as Popular Choice Design for Highways and Bridges which was a global architecture competition in New York. This bridge was designed after one full year and the designer had created "a place for the people to stay and contemplate and not merely pass the bridge". Thus this enigmatic (having many bends and benches, and not direct and straight) bridge was constructed in 2010 with 2000 tons steel and 10000 cubic meters concrete. The project terminated in 2014.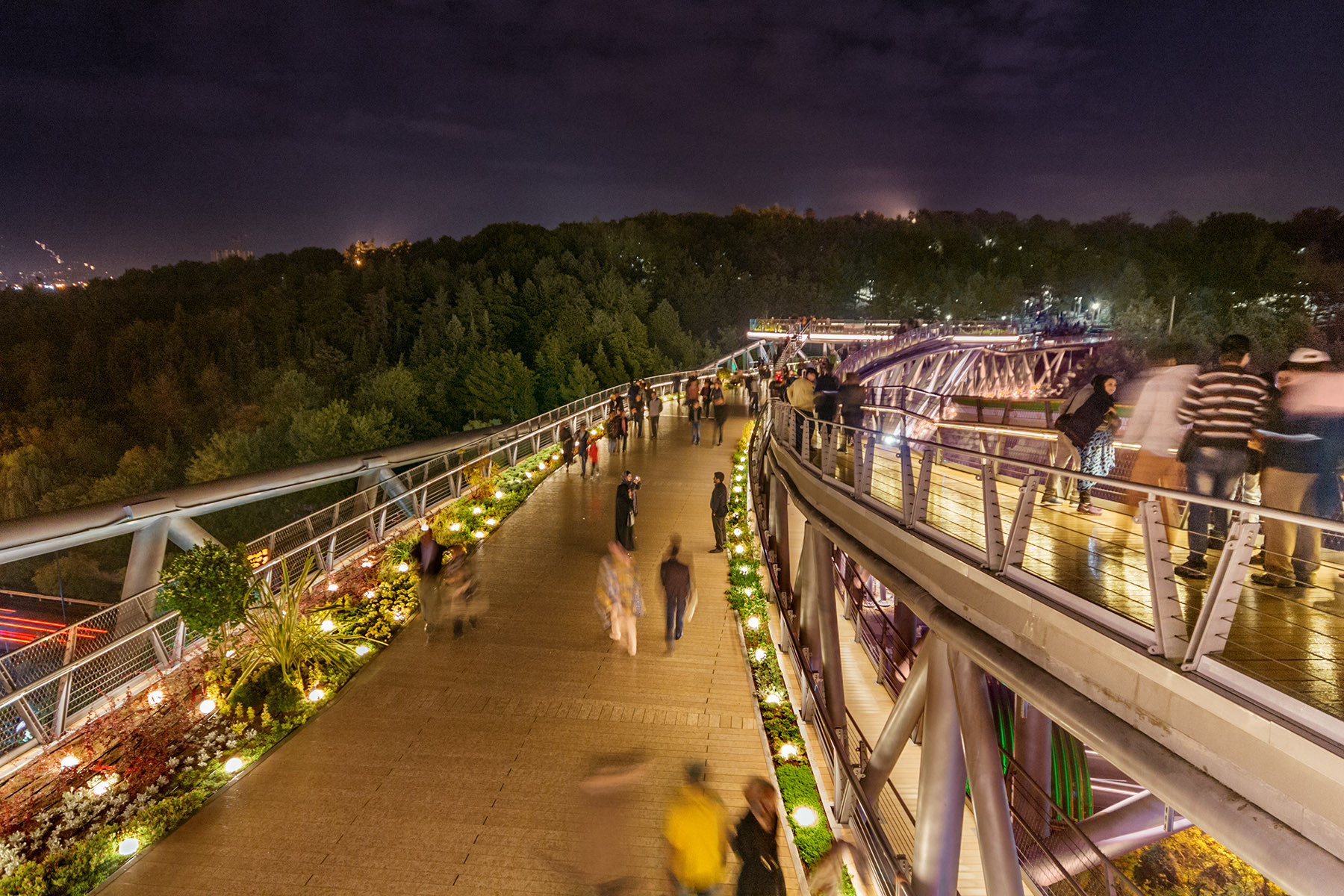 The whole construction process was a rel challenge as it was built over a large highway; thus platforms and temporary tunnels were built to secure the process and lives of people and cars below the bridge. This man made attraction is an excellent place and a must-see site in Tehran due to several reasons; first of all, it is a masterpiece and puzzle of architecture which makes you ponder at its grandeur and muse about the way it has connected two giant parks over a gigantic highway. Second, it has wonderful views of the parks and nature around it so that you can relax hours and not get tired there, though it is one of the most crowded areas of Tehran. Thirdly, you can take marvelous photos to keep your trip to this attraction memorable and enduring. The views of this bridge during both day and night time are spectacularly beautiful and worth a visit.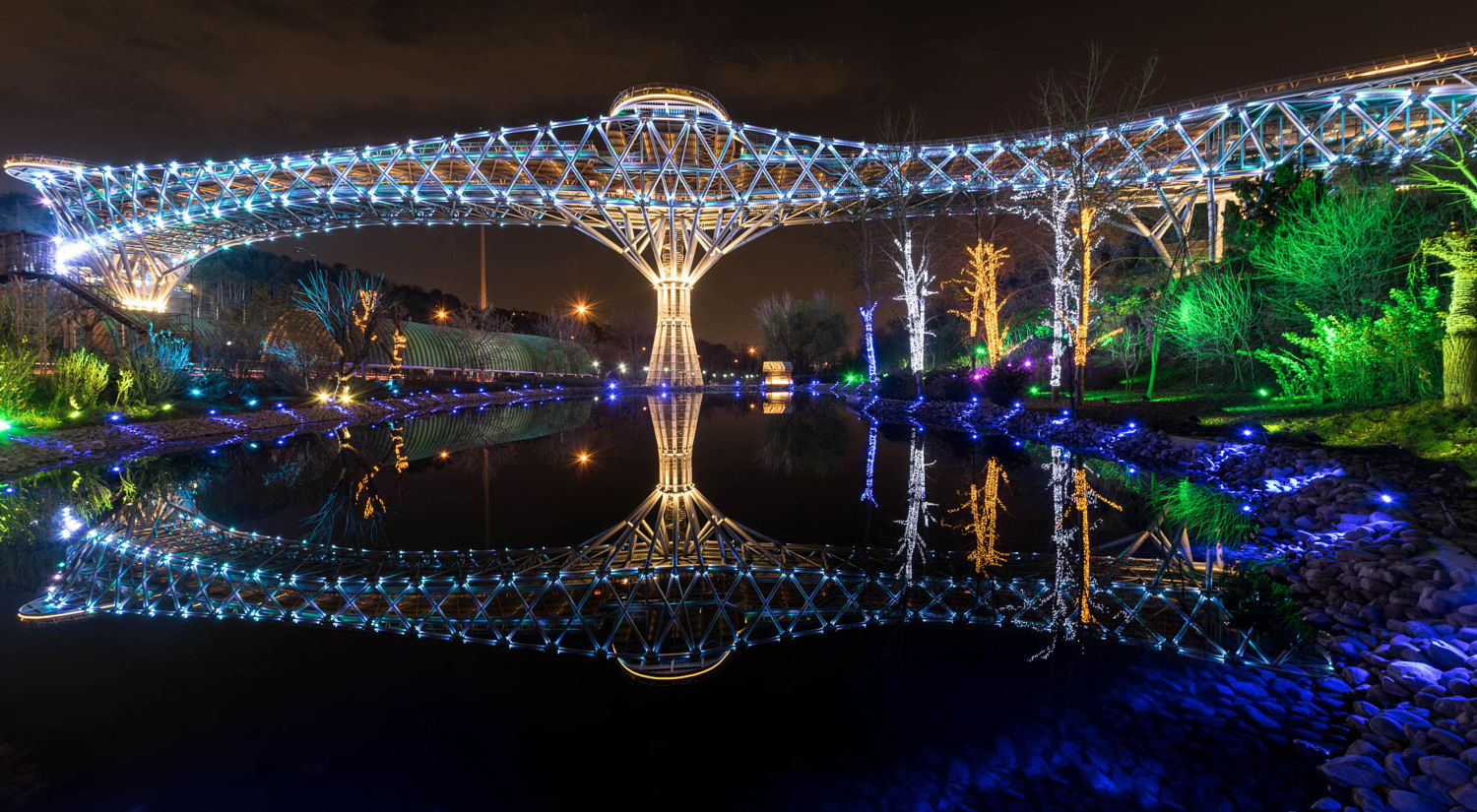 The bridge is about 270 meters long and consists of a 3 dimensional truss with two continuous levels that sits on three tree shape columns. There are two platforms on top of the main columns forming the 3rd level viewpoints. All the levels are connected to each other by stairs and multiple ramps, providing multiple paths throughout the bridge to get from each level to another. Even though the bridges are usually considered as structural projects, here the approach is more architectural.
Instead of connecting one point on one park to one point on the other, the design was to connect multiple points on one park to multiple points on the other. The bridge widens to 60 meters on its west entrance and forms a plaza on the same level of the park; this makes it difficult to recognize where the park ends and the bridge starts. There are multiple paths on both sides and both levels entrances that connect the bridge to other important points of both parks. Bridge is not only a path to pass but a place to stay.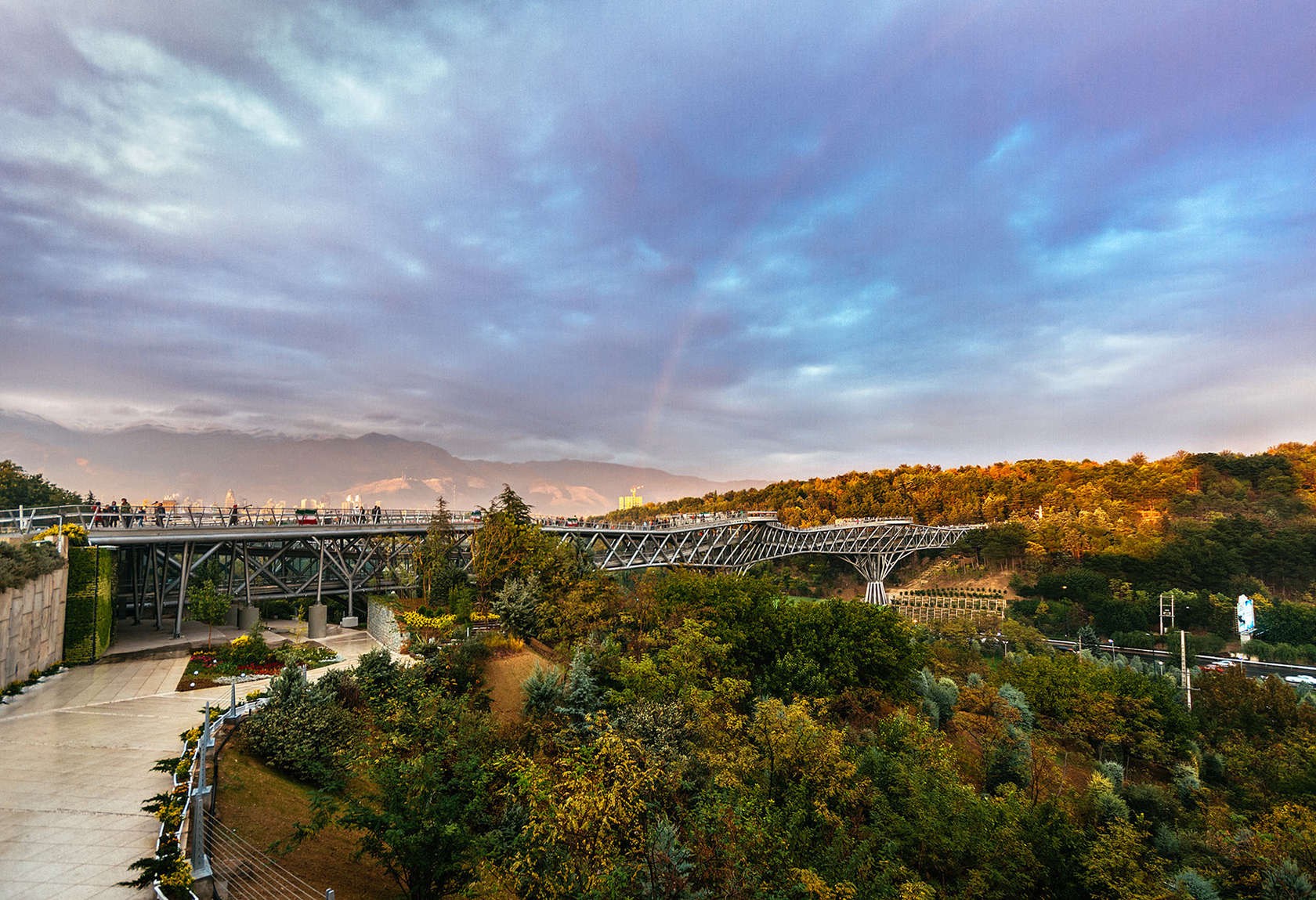 There is a café-Gallery and a restaurant in the lower level of the bridge. In addition to this there are many benches and other seating areas in all levels which make it possible for the users to stay on the bridge for as long as they want to, and enjoy the scenery which they cannot see from any other place. To avoid a one point perspective which more commands for moving forward, this bridge by its curvilinear plan, changes in widths and the slight slope of the floors slows down the user, offers a sense of wander and constantly shifts views of users towards the parks, cityscape and mountains. Since both sides had so many trees, locations with minimum number of trees was selected for locating the columns in order to minimize the impact on the existing trees.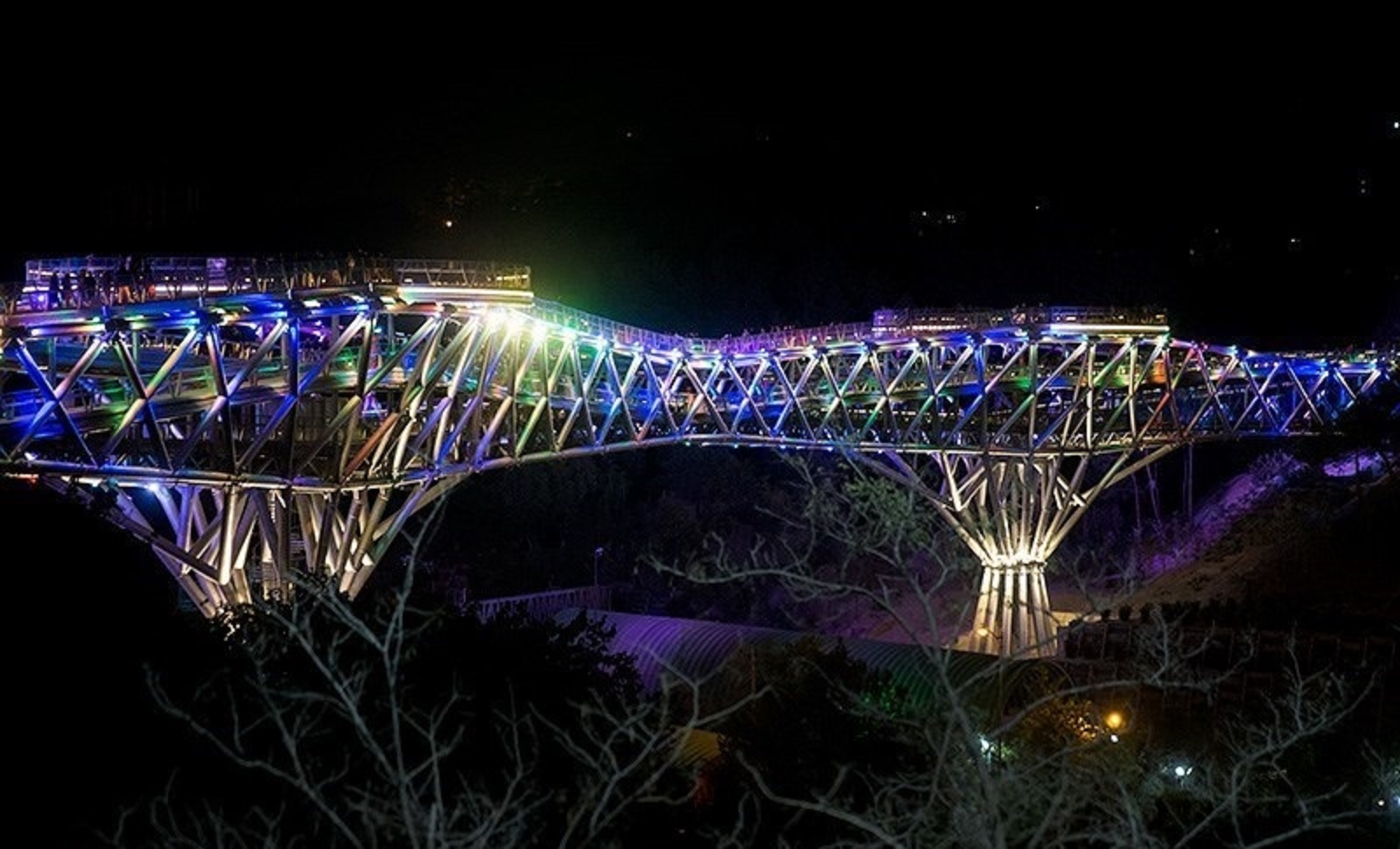 Tags:
Alborz mountains
,
architectural
,
Architecture
,
Bridge
,
café-Gallery
,
crowded areas
,
crowded areas of Tehran
,
dimensional truss
,
highway
,
Leila Araghian
,
masterpiece
,
Modarres Expwy
,
Nature
,
Nature Bridge
,
park
,
Park-e Abo-Atash
,
Park-e Taleghani
,
puzzle
,
puzzle of architecture
,
restaurant
,
Tabiat
,
Tabiat Bridge
,
Tehran
,
walkway