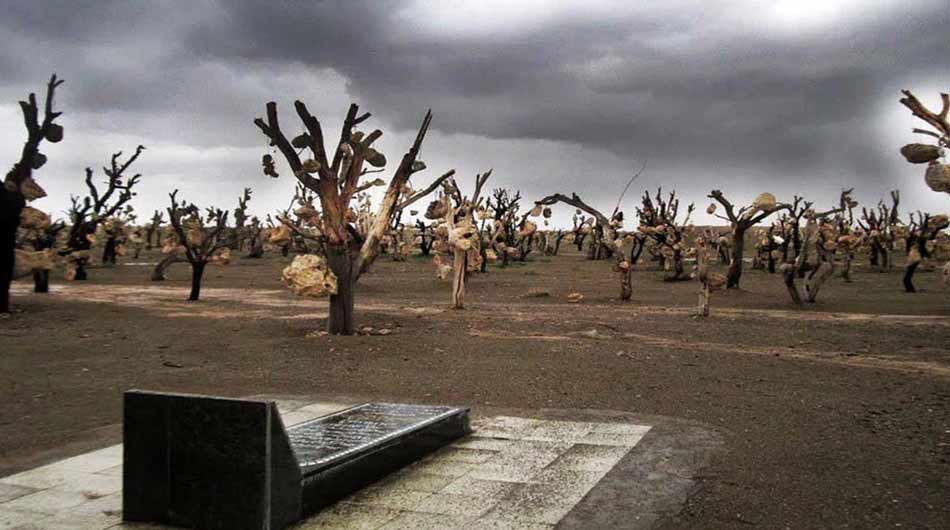 Kerman province in Iran has some astonishing historical and naturel sites, from the Shah Zadeh Mahan Garden to the Lute Desert, but none can compare to the bizarre Stone Garden. Darvish Khan's Stone Garden (Baq Sangi) is located at a distance of 40km from Sirjan and is in the Bulurd Village. There's also a remarkable story behind the garden. Imagination is one of the features that differentiates humans from other species. Some people find the courage to implement what goes on their heads while others fail to do so or decide to abandon it. Today, we are going to review a story of a shepherd in Kerman province who was brave enough to materialize what he had imagined, creating one of the strangest gardens of Iran, and the world.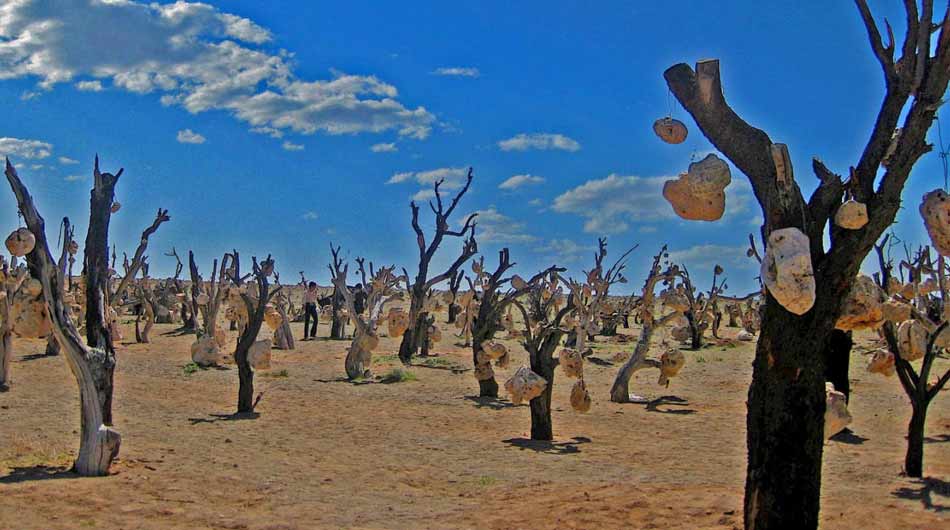 In the middle of nowhere, surrounded by only a few sheep, a new playground, toilet, and sand lots of sand lies this garden of stone trees. Hundreds of tall dry trees stretch across the sand, each with stones small and large some weighing over 20 pounds hanging from the branches. It's a manmade heaven for weird-seekers. It also looks incredible. This place surprises visitors as it has been frozen in time. The garden is made of dry trees with a bunch of hanging stones in various sizes. The first glimpse triggers the question that why somebody should build such a thing.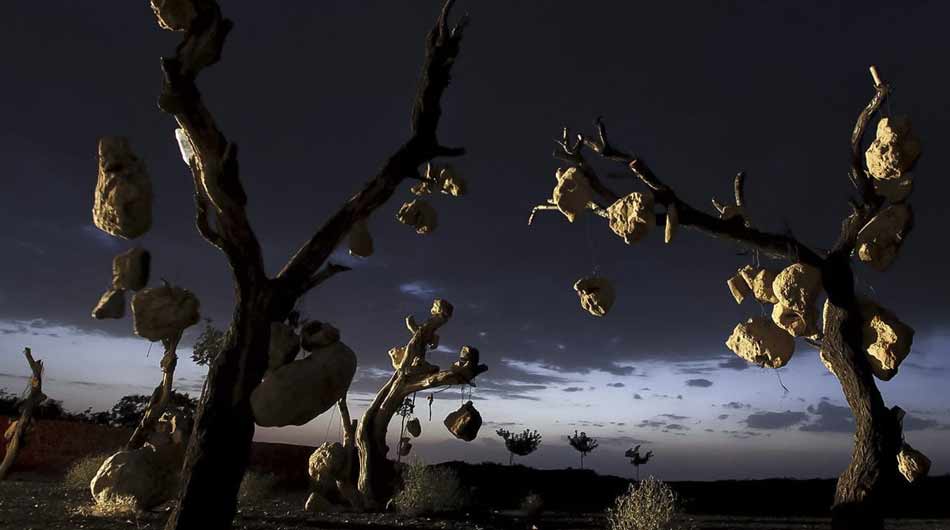 It was created by a hearing-impaired and mute landowner named Darvish Khan Esfandiyarpour. Darvish Khan Esfandiarpour, better known as Darvish Khan, was born in January 1925 in Miandoab village, Kerman. It is believed that his grandfather was among powerful rulers of the era, so Darvish's family, enjoy the title 'Khan' after their names. Darvish Khan was one of the major landowners of Sirjan while also making a living through raising sheep and gardening, mainly almonds. Due to congenital disorders, he was not able to hear or speak but this didn't stop him from trying. There are some myths about him. Locals say he once combated with two leopards and killed them for hunting one of his sheep. Others say he used to entertain himself by playing with wolves and dangerous snakes.
After the Land Reform (changes in the ownership of agricultural lands by large landowners to smallholders and its redistribution among farmers), which was implemented in 1341, he lost a significant amount of his property. Eventually, due to lack of irrigation, all of his remaining land trees dried up. He Disappointed by the incident and started to collect the dried trees of his garden and others in the nearby desert in one of his old gardens. Then by digging holes in the ground, he planted large numbers of dried trees and began hanging stones from the branches of the trees.
Iranian cinematographer Parviz Kimiavi saw the potentials of the site and created a movie called 'Garden of Stones' in 1976 with the very Darvish Khan playing as its main character. The movie won the Silver Bear at the 26th Berlin International Film Festival in the same year.Kimiavi came back to the garden 28 years later in 2004 to create a documentary about it which persuaded officials to designate the site as a national heritage. Darvish Khan Esfandiyarpour passed away in 2007 at the age of 90, and was buried in his rocky garden. Although he is no longer there to tell the story behind his symbolic stones, the sight is still worth the trip. Only around 6,000 people visit the site each year, so chances are good you'll be by yourself accompanied by just the stones and sheep.
Tags:
Baq Sangi
,
Darvish Khan's Stone Garden
,
iran attractions
,
Iran city tour
,
iran daily tour
,
Iran private tour
,
iran tour
,
iran tour operator
,
Iran tour packages
,
Iran tours
,
Iran travel agency
,
Iranian tour operator
,
iranparadise
,
Kerman province
,
landscape
,
Nature
,
Stone Garden
,
tour agency
,
tour operator
,
tour package
,
travel agency
,
travel company
,
travel to iran
,
trip to iran
,
باغ سنگی درویش خان
,
باغ سنگی کرمان
,
درنا گشت