The brief itinerary
The pilgrimage journey is made for devotion, or spiritual penance to a place considered sacred
Day 1: Arrive in Tehran
Day 2: Qom
Day 3: Mashahad
Day 4: Mashahd
Day 5: Mashhad
Day 6: Mashhad/ Tehran
Day 7: Tehran
Day 8: Departure
The detailed itinerary
Day 1: Tehran [Tehran]
Arrive at IkA Airport (Tehran), where you'll greet and get assist from our representative and be transferred to your hotel and Check-in. later on, we`ll start our tour visiting: Saad Abad Palace and Museum. Afterwards you`ll be taken to the Ziarat of Emamzadeh Saleh followed by shopping, Overnight Tehran.
…………………………………………………………………………………………………………………………………………………..
NOTES:
Saad Abad Palace: is a palace built by the Pahlavi dynasty of Iran in the Shemiran area of Tehran. The complex was first inhabited by Qajar monarchs and royal family in the 19th century. After an expansion of the compounds, Reza Shah lived there in the 1920s. And his son, Mohammad Reza Pahlavi moved there in the 1970s.After the Iranian Revolution, the complex became a museum. However, the current presidential palace is located adjacent to the Sa'd Abad compound.
Emam Zadeh Saleh: is one of many Imāmzadeh mosques in Iran. The mosque entombs the remains of Sāleh, a son of the Twelver Shī'ah Imām, Mūsā al-Kādhim, and is one of the most popular Shī'ah shrines in northern Tehran.
Day 2: Qom [Qom]
This morning you`ll experience a half day city sightseeing, have lunch , then you are on to ziarat of Hazrat Abdul Azim Shrine, then, we make our way to visit Emam Khomeini`s shrine and Jamkaran en route ,before driving toward Qom. Finish up your day when you`ll be taken to the Ziarat oF Hazrat Masoomeh, Overnight Qom.
…………………………………………………………………………………………………………………………………………………..
NOTES:
Hazrat Abdul Azim: is the burial place of Shah-Abdol-Azim, a descendant of Emam Hasan who was martyred in the 9th century in Ray, Iran.Beside this ,there is tomb of "Imam Zadeh- Hamzeh"- brother of "Imam Reza (AS)" in Mashhad, "Imam Zadeh Taher" a descendant of Imam "Zein-al-Abedin"-Fourth Imam of Shiite.
Emam Khomeini`s Shrine: The mausoleum of Imam Khomeini (RA), the founder of the Islamic Republic of Iran is situated in the south of Tehran city.
Hazrat Masoomeh Shrine: the Blessed and the Gracious Divine Lady from the Holy Ahlul Bayt (A.S.) was born in the holy city of Medina. Hadrat Fatima Masumah (S.A.) was the most learned scholar and very pious lady and was greatly revered by the Holy Imams (A.S.). She was buried in the holy city of Qum (Iran) and her holy shrine is every year visited by millions of the lovers of Holy Ahlul Bayt (A.S.).
Day 3: Mashhad [Razavi Khorasan]
Today we`ll roll on to Tehran, transfer to Mehrabad airport to board our flight to Mashhad. On arrival, you`ll transfer to hotel, check in, rest. We`ll enjoy a half day excursion to see Ferdosi, Ghazali and Harunieh. Later in the day, you`ll be taken to the Ziarat of Emam reza`s shrine, overnight Mashhad.
…………………………………………………………………………………………………………………………………………………..
NOTES:
Ferdosi Tomb: is a highly revered Persian poet. He was the author of the Shāhnāmeh, the national epic of Persian people and of the Iranian World.
Ghazali: was an Islamic theologian, jurist, philosopher, cosmologist, psychologist and Sufi mystic of Persian origin, and remains one of the most celebrated scholars in the history of Sunni Islamic thought. He is considered a pioneer of methodic doubt and skepticism, and in one of his major works, The Incoherence of the Philosophers.
Harunieh: This 14th century large brick building, about 1 km (.6 mile) south of Ferdosi tomb is the only remain from the ancient Toos.
Emam Reza Holly Shrine: has became one of the holy and sacred shrines in Islam, for it has acquired a halo of admiration and sanctification, to the extent that none of the shrines of Allah's friends has such admiration and sanctification, for millions of Muslims visit it in order to seek nearness to Allah through it.
Day 4: Mashhad [Razavi Khorasan]
Prepare for your upcoming excursion to Neishabour with the chance to visit, Tombs of poets such as Khayyam and also Attar, later we have views of Emam Reza`s Ghadamgah. At noon we`ll go to the Ziarat of Emam Reza, Overnight Mashahad.
…………………………………………………………………………………………………………………………………………………..
NOTES:
Khayyam Tomb: Omar Khayam was born in Nishapur in province of Khorasan in Iran in the latter part of 11th century. He was considered "The King of Wisdom"; he died in 1123 AD. He is one of the most well known poets in the west and his poems are translated into many languages.
Attar Tomb: Farid ud-Din Attar was born in Nishapur, in north-east Iran. He is traditionally said to have been killed by Mongol invaders. His tomb can be seen today in Nishapur. He was a Persian Muslim poet, theoretician of Sufism, and hagiographer from Nīshāpūr who left an everlasting influence on Persian poetry and Sufism
Emam Reza`s Ghadamgah:. In the past it was called "AL-HAMRA" and the exact location of it is in Silk Road. The importance of this place is because of emam reza stopped in this place during his holly journey from medina to Marv. The name of this place is taken from a black stone which is famous for emam reza's footprint on it. Besides this building there is a spring which pilgrims consider it as holly water.
Day 5: Mashhad [Razavi Khorasan]
You`ll have the whole day at leisure to enjoy, discover and also for Ziarat, Overnight Mashhad.
Day 6: Mashahd/Tehran [Razavi Khorasan] [Tehran]
This morning we`ll enjoy our half day city tour and Ziarat, later on we`ll board our flight to Tehran, Overnight Tehran.
Day 7: Tehran [Tehran]
This morning we`ll start our next excursion to Qazvin City tour for Ziarat of Emamzadeh Hossein (son of Emam Reza), overnight Tehran.
……………………………………………………………………………………………………………………………………………………
NOTES:
Emam zadeh Hossein: Emâmzâdeh-ye Hossein, 16th century, redesigned in 19th century ; it's the tomb of one of the 8th imam's sons.
Day 8: Tehran/ Departure [Tehran]
This morning for our last day of tour we`ll be taken for an excursion to visit Bibi Shahrbanoo ( Emam Hosseins`s wife), later we`ll enjoy a city tour along with shopping. Time to bid farewell to Tehran as our memorable tours come to an end. You`ll be transferred to the airport. A noon flight allows for hometown connections.
……………………………………………………………………………………………………………………………………………………
NOTES:
Bibi Shahrbanoo: his enameled or glazed dome was the resting place of the mother of Hazrat Sajad (AS) the daughter of Yazdgerd Sassani III. It is located in the southern skirts of the Ray mountains, reputedly known as the mountain of Bibi Shahr Banoo. This dome is 33m. high and 22m. In width and is surrounded by stone walls. The dome is a remnant from the Daylamite period
Note: The first & last day of programs, depend on your flight time so, the necessary changes will be made accordingly.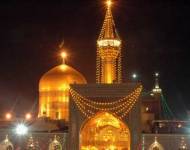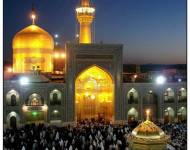 Reserve Now
This form is NOT a reservation for a tour. You will be contacted to discuss the availablity of the tour times you requested and to confirm a scheduled tour. Thank you for your interest in visiting our tour.
[contact-form-7 404 "Not Found"]