The Persian Empire was vast, and one of the lasting legacies of the empire, aside from their fierce battles and dominance in the known world, was their influence on architecture and art as a whole.
Architecture in Greater Iran has a continuous history from at least 5000BCE to the present, with characteristic examples distributed over a vast area from Syria to North India and the borders of China, from the Caucasus to Zanzibar. Persian buildings vary from peasant huts to tea houses, and garden pavilions to "some of the most majestic structures the world has ever seen.
Iranian architecture displays great variety, both structural and aesthetic, developing gradually and coherently out of prior traditions and experience. Without sudden innovations, and despite the repeated trauma of invasions and cultural shocks, it has achieved an individuality distinct from that of other Muslim countries. Its paramount virtues are several: a marked feeling for form and scale; structural inventiveness, especially in vault and dome construction; a genius for decoration with a freedom and success not rivaled in any other architecture.
Traditionally, the guiding, formative, motif of Iranian architecture has been its cosmic symbolism by which man is brought into communication and participation with the powers of heaven. This theme, shared by virtually all Asia and persisting even into modern times, not only has given unity and continuity to the architecture of Persia, but has been a primary source of its emotional characters as well.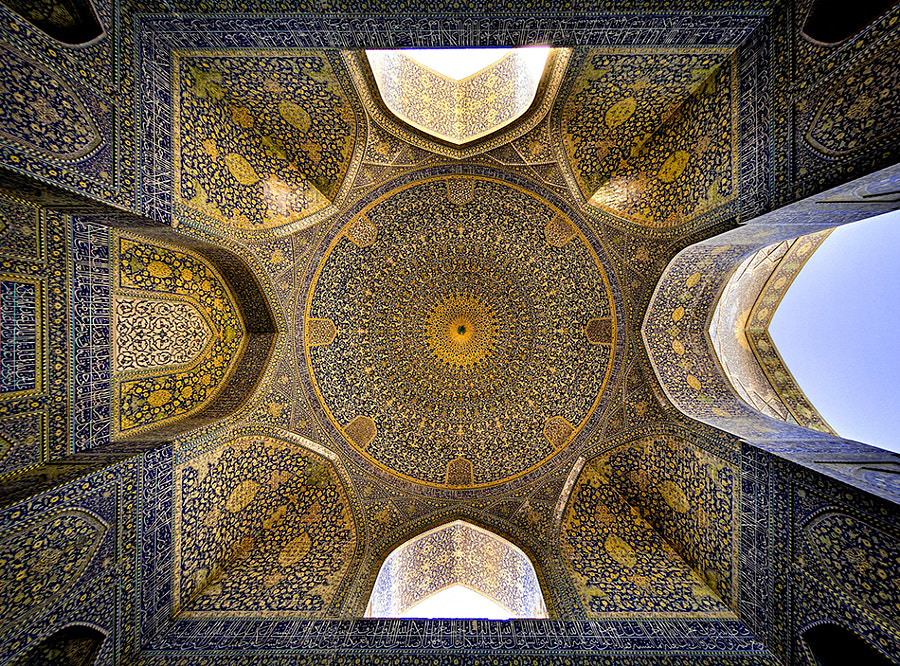 Traditional Iranian architecture has maintained a continuity that, although frequently shunned by western culture or temporarily diverted by political internal conflicts or foreign intrusion, nonetheless has achieved a style that could hardly be mistaken for any other. In this architecture, there are no trivial buildings; even garden pavilions have nobility and dignity, and the humblest caravansarais generally have charm. In expressiveness and communicative, most Persian buildings are lucid-even eloquent. The combination of intensity and simplicity of form provides immediacy, while ornament and, often, subtle proportions reward sustained observation.
The ruins of Persepolis, Ctesiphon, Jiroft, Sialk, Pasargadae, Firouzabad, Arg-é Bam, and thousands of other ruins may give us merely a distant glimpse of what contribution Persians made to the art of building.
The fall of the Persian Empire to invading Islamic forces ironically led to the creation of remarkable religious buildings in Iran. Arts such as calligraphy, stucco work, mirror work, and mosaic work, became closely tied with architecture in Iran in the new era. Archaeological excavations have provided sufficient documents in support of the impacts of Sassanian architecture on the architecture of the Islamic world.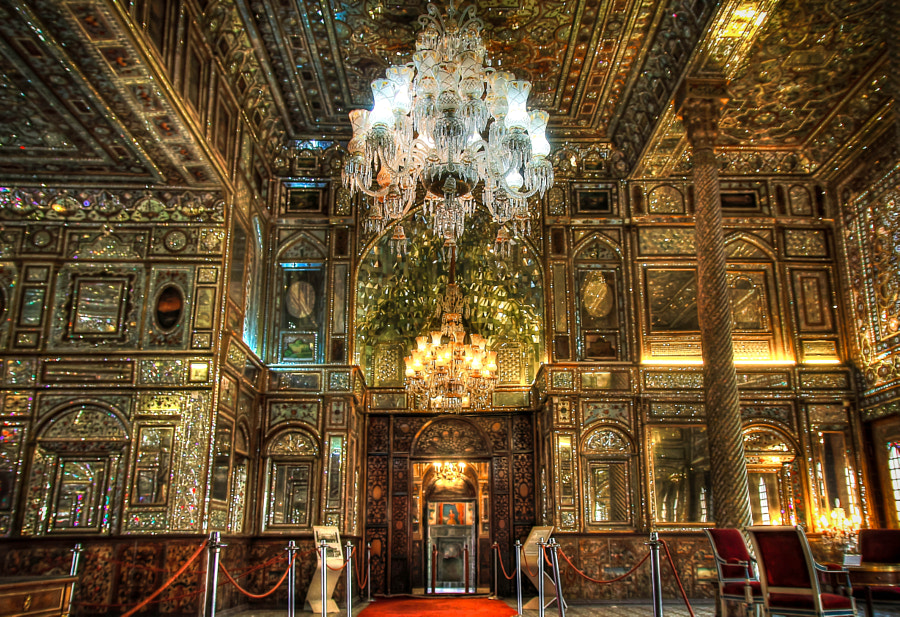 Shrine of Imam Reza consists of 33 buildings embodying Iranian Islamic architecture through 5 continuous centuries. Halls, porticos, ivans, minarets, and belfries of religious buildings and mosques have been decorated with a great number of arts such as tile work, inlay, mirror work, stucco carving, stone carving, painting, illumination and muqarnas (honey comb work). Muqarnas is a sort of stalactite work, and an original Islamic design involving various combinations of three-dimensional shapes, corbeling, etc. which was used for the decoration of mosque portals. It can be of terra-cotta, plaster, or tiles.
The Masjid-i-Shah (Imam Mosque), begun in 1612, and, despite Shah Abbas' impatience, under construction until 1638, represents the culmination of a thousand years of mosque building in Persia, with a majesty and splendor which places it among the world's greatest buildings.
Development of Iranian architecture can be traced also in mosques of other towns such as Masjid-i-Jameh Nayin (mid-tenth century), Masjid-i-Jameh Ardistan (circa 1180), Masjid-i-Jameh Zawareh (1153), Masjid-i-Jameh Golpayegan (12th century), and historical mosques of Tabriz and Yazd.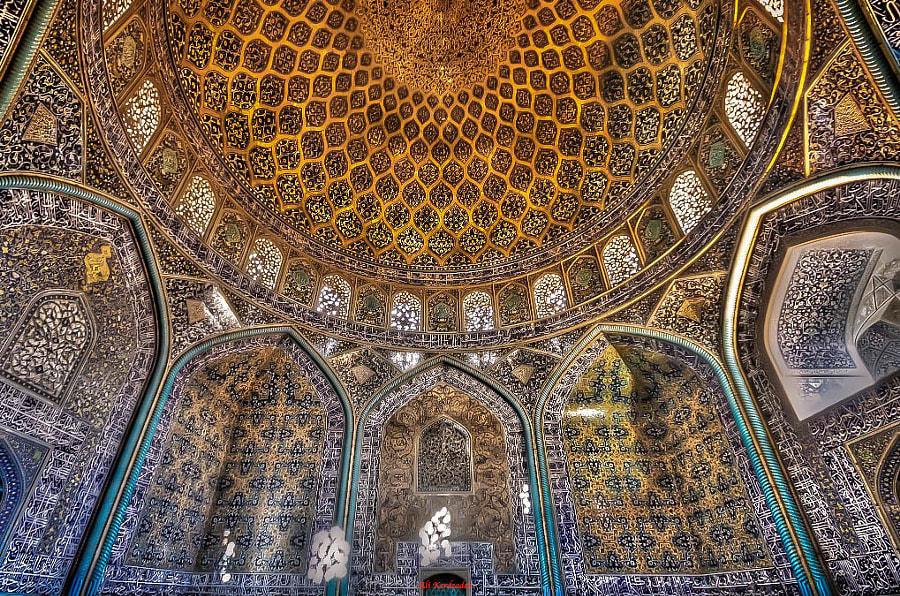 Stucco is another decorative art of Iranian architecture. The Islamic period architects were unparalleled in the art of stucco. An outstanding example of stucco fulfilled with extraordinary precision, is observed in the Mihrab of Nayin Mosque. The stucco belongs to tenth century A.D. Stuccos using carving, molding and painting, constitute one of the main decorative elements of Iranian architecture, and have a long history of development. Types of stucco decoration have been tested by Iranian architects since approximately 2000 years ago.
Mirror work is another decorative element of Iranian structures during Islamic period. The finest examples of skillfully fulfilled mirror work can be seen in the religious buildings of Mashhad, Shiraz, Qum, and Rey. The technique has been used in palaces and magnificent traditional houses as well, and follows architectural elements such as domes, minarets, and towers in terms of significance.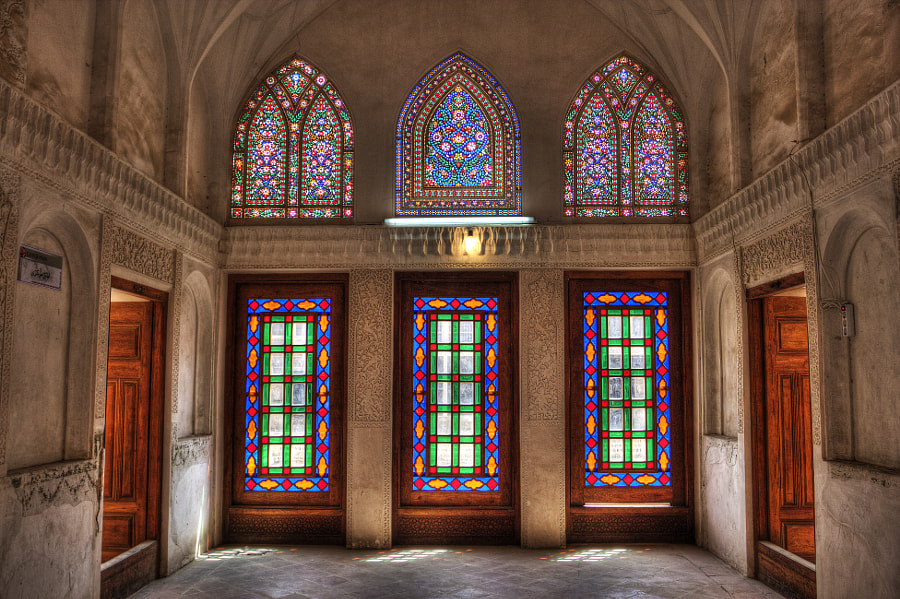 Minaret is a slender and tall structure (tower) constructed on both sides of a mosque dome or domes of religious buildings. Some minarets are constructed independently. The oldest known Iranian minaret, Mil-i-Ajdaha, was built during Parthian period in Nourabad Mamasani, Fars Province, to guide the caravans. In remote past, minarets were used as guide posts. Caravans moving on the vast Iranian plateau, could find their routes in endless deserts and plains only by mean of such minarets.
Minarets were signs of nearly caravansarais, towns, or inns. Minarets built along Persian Gulf' coastline and main ports, served as light houses. Land caravan and ship arrivals or departures, and possible attacks by pirates were signaled through these minarets by fire or smoke.
In Islamic period, minarets appeared shortly after mosques. Mosque minarets had mostly tile facings, while a great number of minarets were built using brick alone. Their brick decorations were extremely fine and artistic.
Ali Qapu Palace at Naqshi-i-Jahan square, Isfahan is another architectural monument of Safavid period built in six stories. It contains various masterpieces of stuccos and murals. Chardin, who visited the palace during Safavid period, described it as the greatest palace to be found in any capital city. The sixth floor was used for Safavid kings' official receptions. The palace is also unique in terms of its stuccos, murals, rooms, and halls.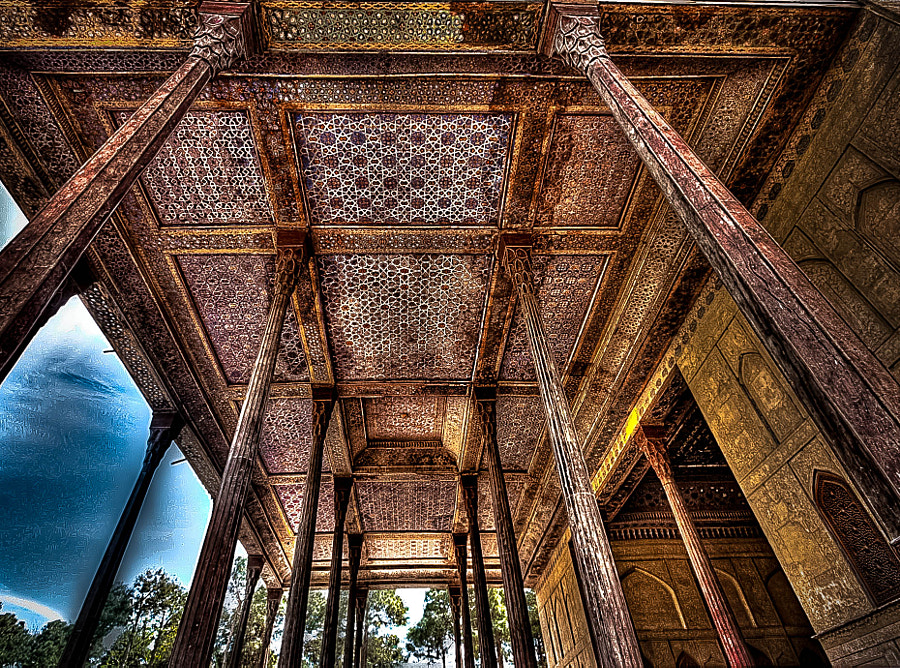 Altogether 6 palaces and 34 historical gardens had been built in Isfahan, a number of which are serving today and the rest have disappeared through the ages. The Iranian architecture can be further traced in historical and famous bazaars of great towns of Iran. These bazaars have enjoyed a great reputation among Europeans travelers and merchants.
Persian architects were a highly sought after stock in the old days, before the advent of Modern Architecture. For example, Ostad Isa Shirazi is most often credited as the chief architect (or plan drawer) of Taj Mahal. These artisans were also highly instrumental in the designs of such edifices as Afghanistan's Minaret of Jam, The Sultaniyeh Dome, or Tamerlane's tomb in Samarkand, among many others.
Tags:
Architecture
,
Arg-é Bam
,
caravansarais
,
Ctesiphon
,
Firouzabad
,
Golpayegan
,
Iranian architecture
,
Jiroft
,
Masjid-i-Jameh
,
Masjid-i-Jameh Ardistan
,
Naqshi-i-Jahan square
,
Pasargadae
,
Persepolis
,
Persian
,
Persian Architecture
,
Persian buildings
,
Persian Empire
,
Sassanian architecture
,
Sialk
,
stuccos
,
traditions