A tour to nomad\'s region
The brief itinerary
Brief Itinerary
Day 1: Tehran-Isfahan
Day2: Isfahan
Day3:Isfahan –Shahrekord
Day4: Shahrekord
Day5: Shahrekord-Yasouj
Day6:Qashgaei Region-Shiraz
Day7:Shiraz-Excursion to Persepolis-Shiraz
Day8:Shiraz-Excursion to FirouzAbad-Shiraz
Day9:Shirz-Tehran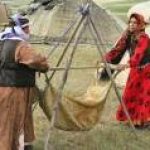 The detailed itinerary
Tehran – Isfahan Early morning drive to Isfahan. En route in Kashan & in Natanz wevisit some historical sites , arrive in Isfahan , 0/N.
nullIsfahan Morning tour of
Imam Square
in Isfahan, at night we visit Isfahan bridges.0/N.
Shiraz – Firouzabad – Shiraz Full Day drive to Firouzabad to visit the QashqaeiNomad tents, 0/N Shiraz.
Reserve Now
This form is NOT a reservation for a tour. You will be contacted to discuss the availablity of the tour times you requested and to confirm a scheduled tour. Thank you for your interest in visiting our tour.
[contact-form-7 404 "Not Found"]