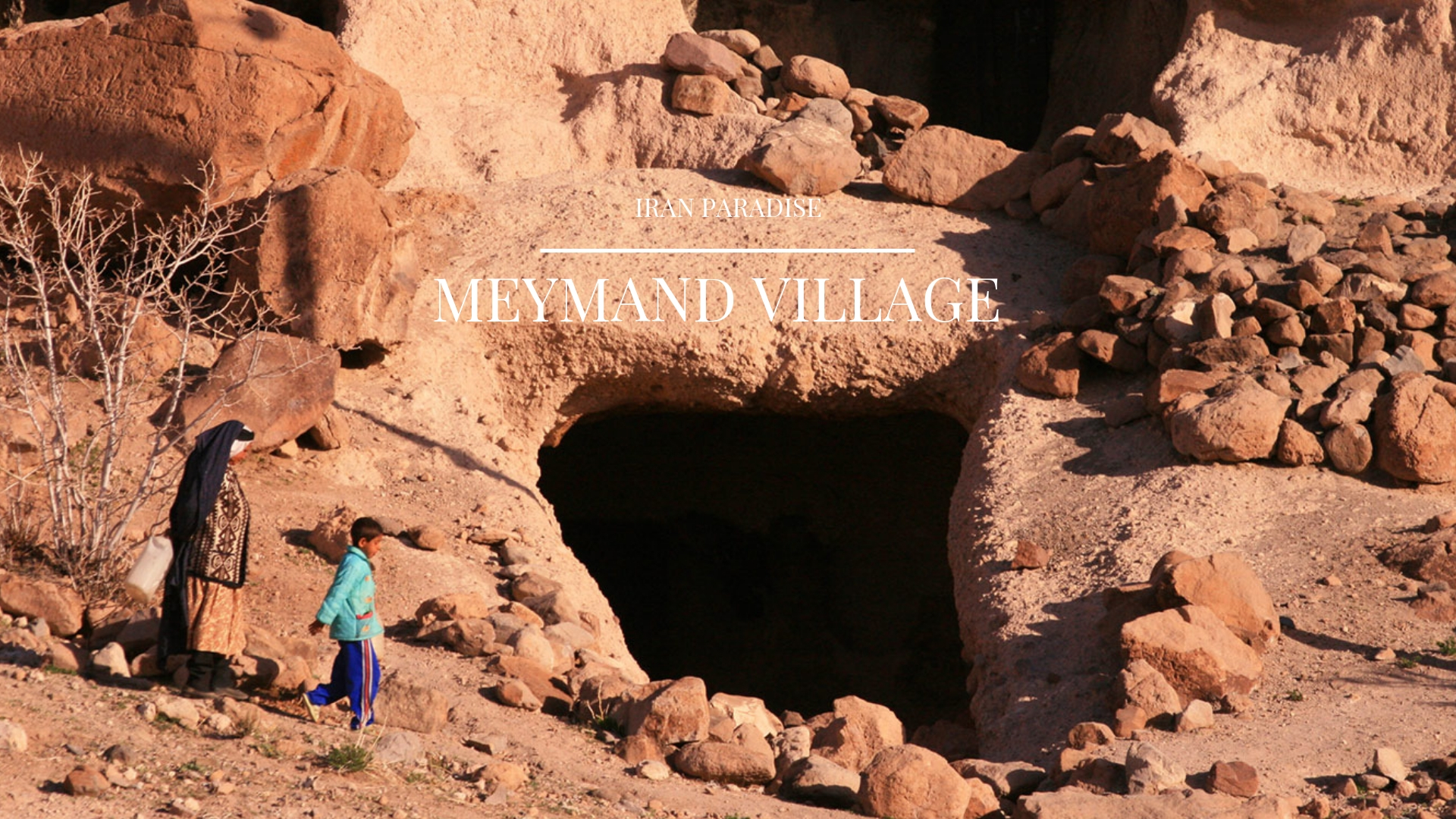 Meymand is a self-contained, semi-arid area at the end of a valley at the southern extremity of Iran's central mountains. The villagers are semi-nomadic agro-pastoralists. They raise their animals on mountain pastures, living cave dwellings carved out of the rock (kamar), an unusual form of housing in a dry, desert environment. Maymand includes 2500 rooms all carved out of the rock. Meymand Stone House Ecolodge is a part of a community-Based Tourism project which is hosting guests in the ancient rocky houses. In Meyamand Stone House you have the chance of staying and joining a local family in a 3000 years old house carved out of the rock.
By contrast the troglodytic village of Kandovanin northwest Iran is said to have been inhabited for 700 years. Some claim that Meymand village has been inhabited for 12,000 years, that is, since the middle stone ages, making it a mesolithic village. Reportedly, 10,000 year old stone engravings and 6,000 year-old pottery have been discovered at the site.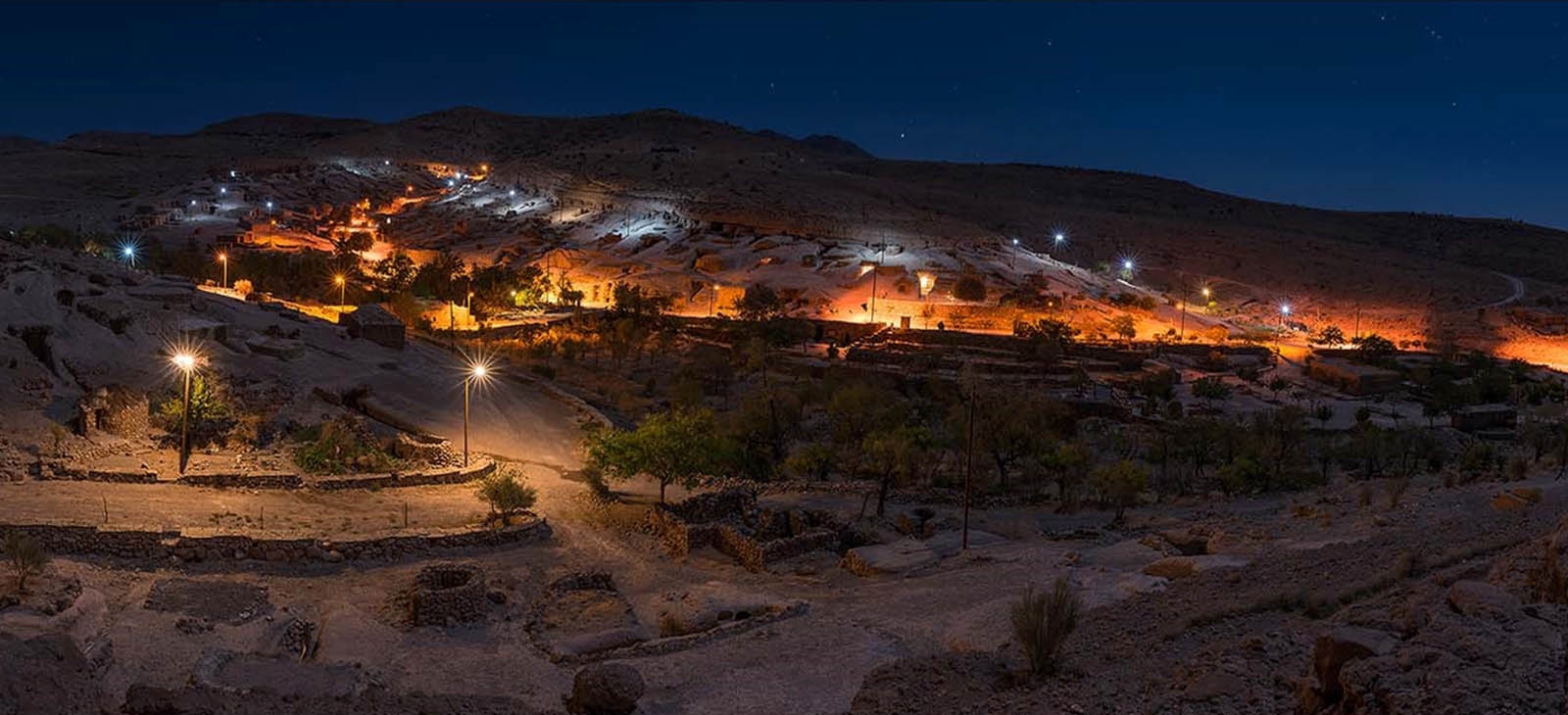 The village is a UNESCO world heritage site and was awarded UNESCO's 2005 Melina Mercouri prize. UNESCO compares Meymand / Maymand with villages of Kandovan, Hille Var, Sour, Ghorveh, Vind, Tamin, Kharg Zoroastrian hypogea, Zoroastrian houses around Tabas, Jahlkhaneh in Bushehr, Kapadocia, Metra, some regions in south of England, Jordan and China.
Meymand village is located some 35 kilometres northeast of the town of Babak – Shahr-e Babak, a Kermani town on the road that runs between Tehran in the north and the port of Bandar Abbas in the south. Shahr-e Babak means Babak's city and Shahr-e Babak is said to be the birthplace of the founder of the Persian Sassanian dynasty c.200 CE The road from Shahr-e Babak rises into the surrounding mountains until it reaches Meymand at an elevation of 2240 metres.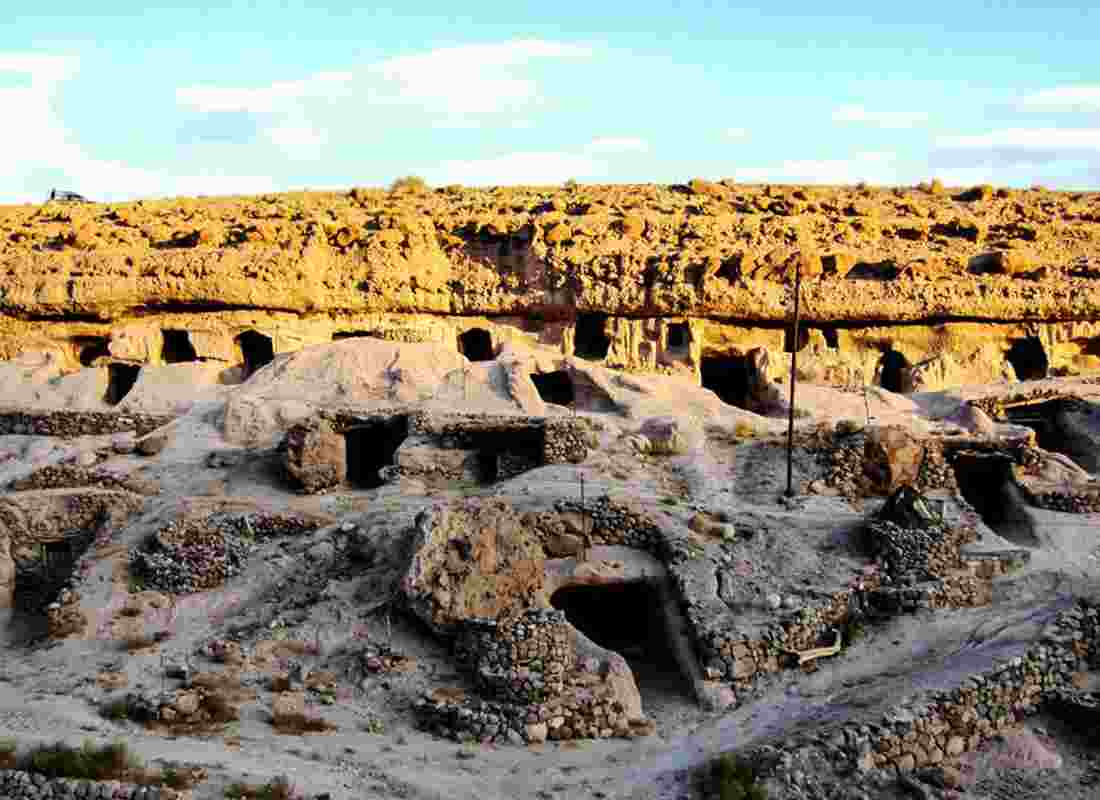 Meymand is one of the districts of Shahr-e-Babak, and is one of the spectacular villages of Iran. Here there are a mass of crypts, with 15 stony, circular and roof-less chambers. The same covers an area of approximately 400 sq. m. This vicinity seems to be a place of burial, as skeleton bones and other articles have been found here. The stony mosque of Meymand is another interesting site in this village. The ancient houses in this rural settlement resemble minarets constructed in the breast of this hard stone mountains. In these minaret shaped dwellings which are very strong and durable, are chambers, corridors and pillars displaying an intriguing architecture.
While many Iranian desert villages are fairly non-descript in appearance most of the time (their beauty is found within the courtyards and homes), Maymand is in comparison stark in appearance and perhaps even unattractive in the usual sense. The villagers have done little to add colour to the natural earth tones of the landscape. Their homes and streets have no potted flowers or ornamental plants. The village's stark appearance is complimented by Spartan life of its inhabitants. Adults wear sober coloured clothes and visitors have noted in their travel logs that they could hear no music.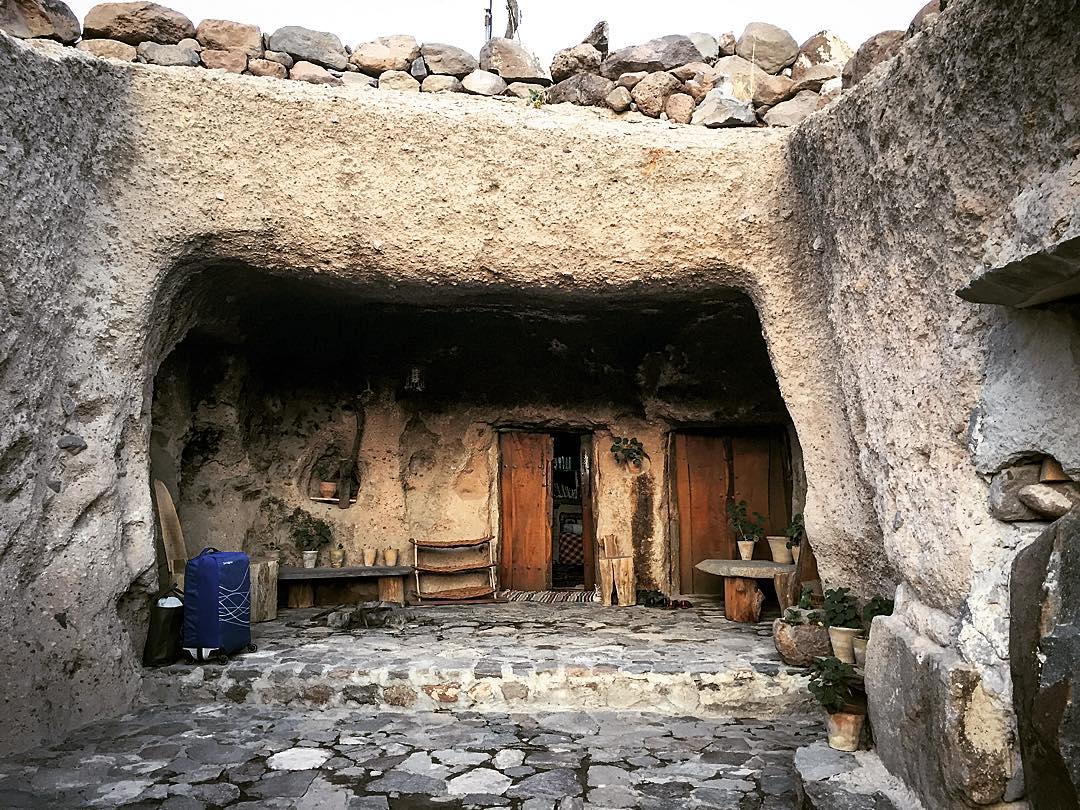 Rock art can be found in and around Maymand. Three kilometres northeast of Meymand, beside a gravel road that runs towards the Tela valley, lies a hill called Mar Khazineh (Mar in the local dialect means hill). A 350 m. climb down the hill brings us to an estodan (ossuary) plot filled with the scattered pieces of maliciously destroyed ossuaries decorated with rock art. Locals say that these and other ossuaries are from the Zoroastrian-Sassanian era.
Indeed we can say that Meymand is parallel to history and is the head of history. According to one of the researches: if you look at Meymand from 0/5 km it seems that you look at the history from a deep cylinder. In other word seeing Meymand means seeing history and the ordinary life of people for who are interested in history, past and its issues. In the other part of his article it has written that Meymand is a place where its history is full of ambiguity.
The village has a present peak population of between 130 and 150 people many of whom are semi-nomadic shepherds, living in the village caves during the winter when the population is at its highest and migrating to higher pastures in the summer leaving about 60 residents in the village.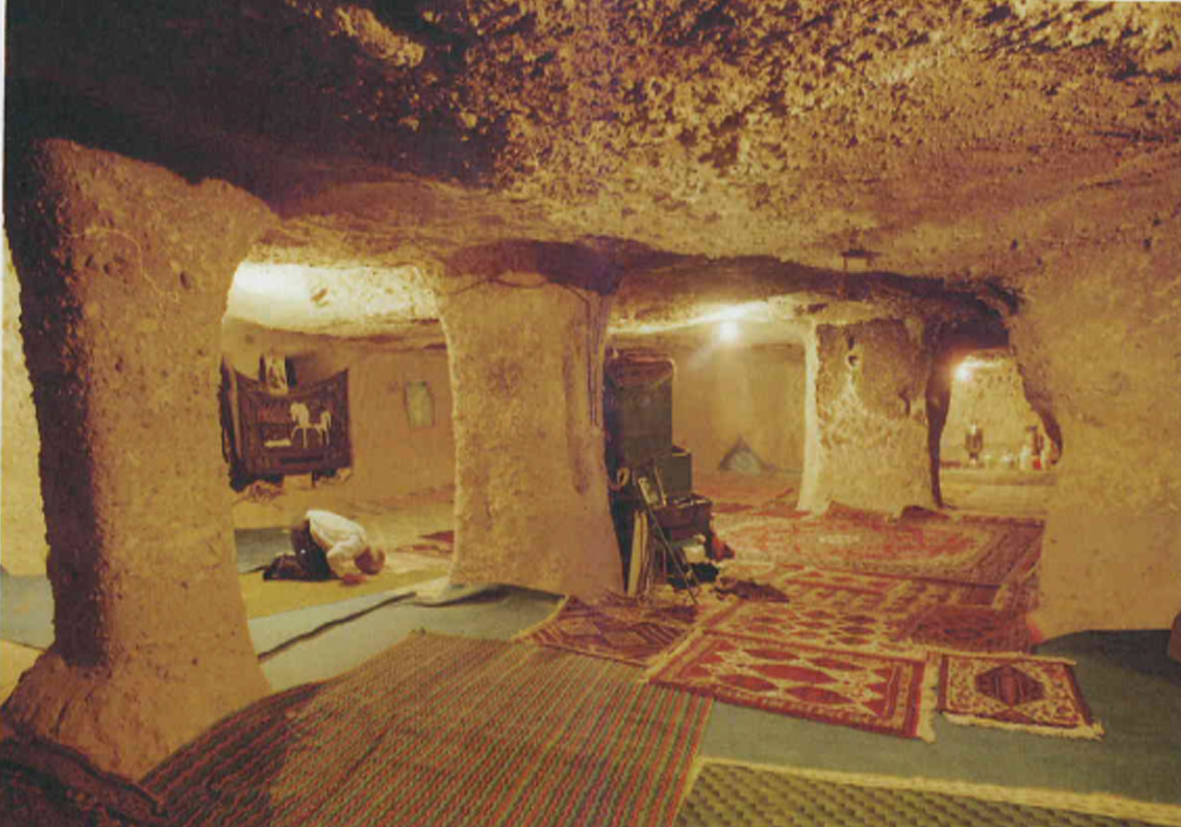 Tags:
Bandar Abbas
,
cylinder
,
Ecolodge
,
history
,
homes
,
inhabitants
,
Iranian desert villages
,
landscape
,
Mar Khazineh
,
Maymand
,
Maymand Village
,
Melina Mercouri
,
Meymand
,
Meymand Stone House Ecolodge
,
Meymand village
,
potted flowers
,
Rock art
,
Shahr-e Babak
,
Stone House
,
UNESCO
,
Village