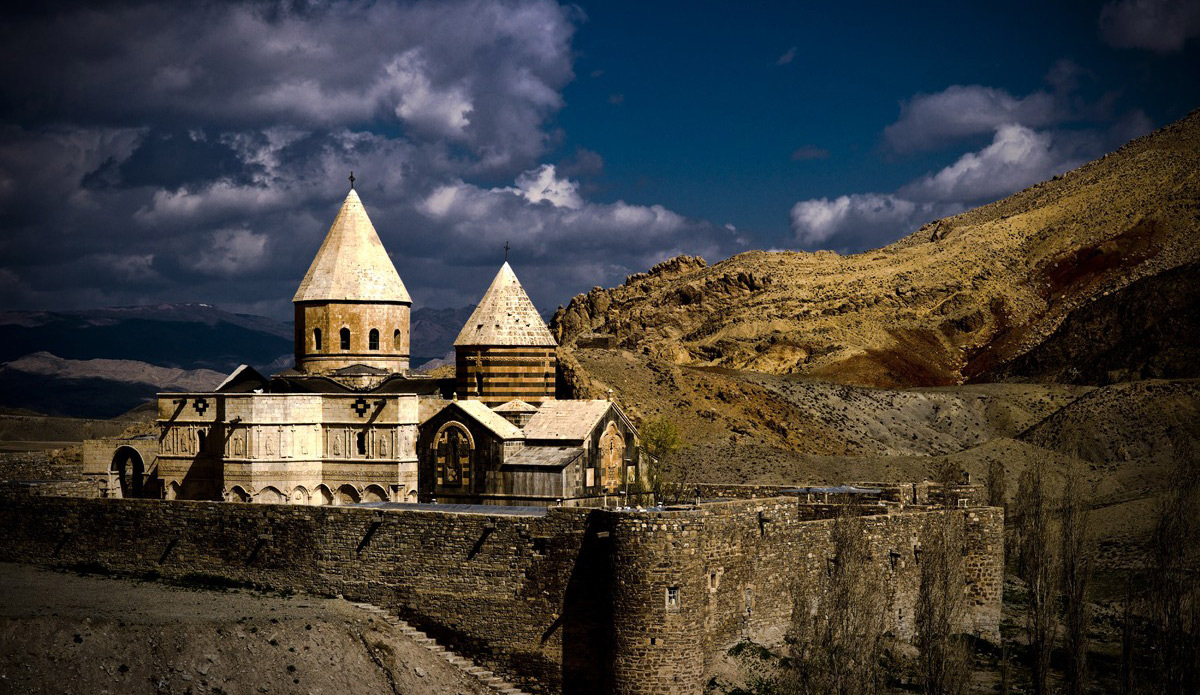 Qara Kelisa (Kara Kilise or "Black Church"), also known as the St. Thaddeus Church (Saint Thaddeus Cathedral), is one of the oldest and most notable surviving Christian monuments of Iran that carries great significance for the country's Armenian Orthodox community.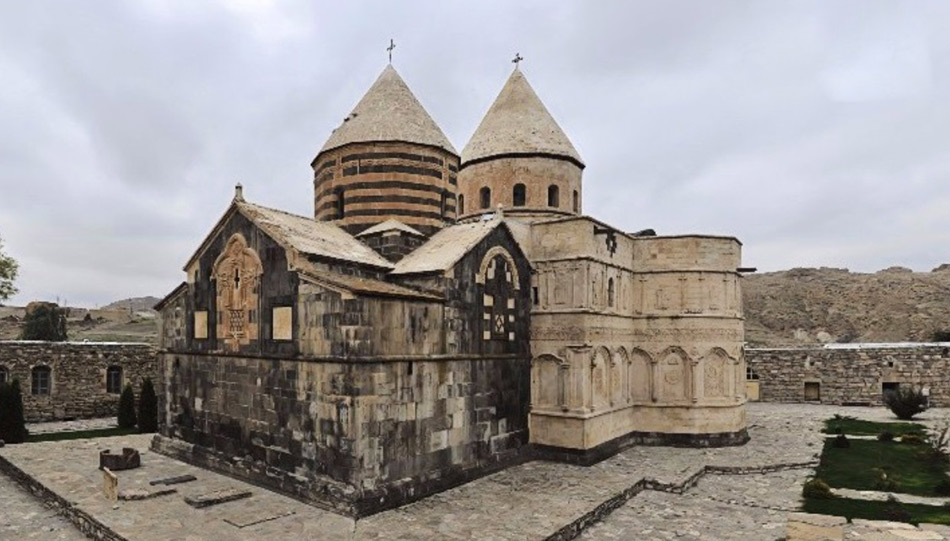 Kara Kelisa or Qara Kelisa is one of the Armenian Monastic Ensembles of Iran which is located in Chaldoran town, Western Azerbaijan Province. In fact, they have built the building of this Iranians tangible cultural heritage on the tomb of St. Thaddeus, one of the apostles of Jesus. The correct name of this monument is Kara. In Azeri, it means large and all-inclusive. Gradually, it has changed to Qara.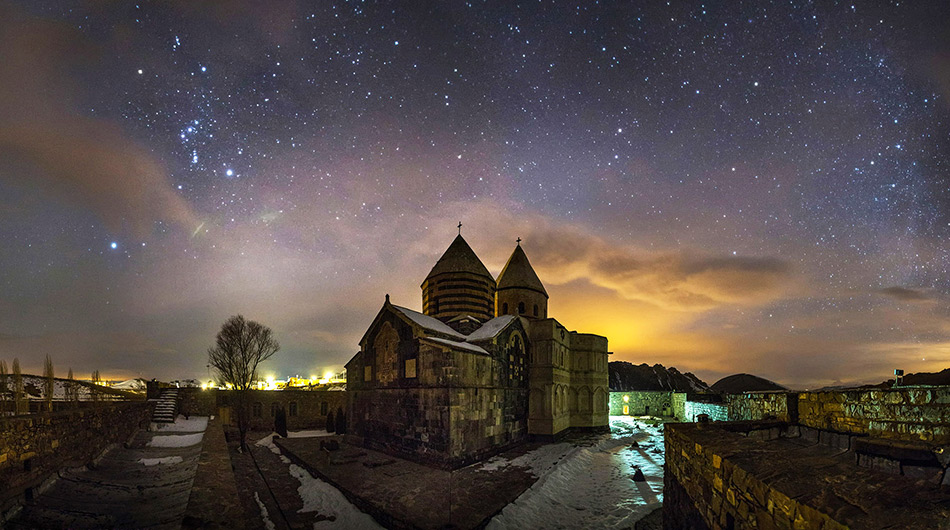 Iran's Qara Kelisa will honor the memory of Saint Thaddeus and his faithful followers during a ceremony in the northern province of West Azarbaijan. Scores of Armenians, Assyrians and Catholics from Iran and other countries will attend the annual event as part of their pilgrimage on the Day of St. Thaddeus. The ceremony is known as one of the largest religious ceremonies held by Armenians.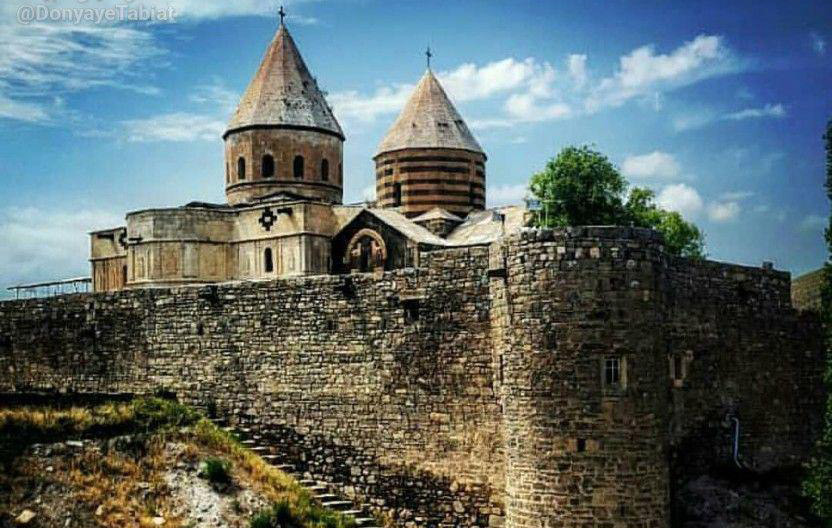 The date of construction of this monument goes back to the early Christian era. The building of this Church is of two wings: Older section, which is in black, and new section, which is in white. Mongol invaders destroyed a large part of this monument, but Khajeh Nasir Al-Din Al-Tusi restored it during Halaku Khan, the Mongol ruler. He was a Persian polymath, scientist, philosopher, architect, physician, and theologian.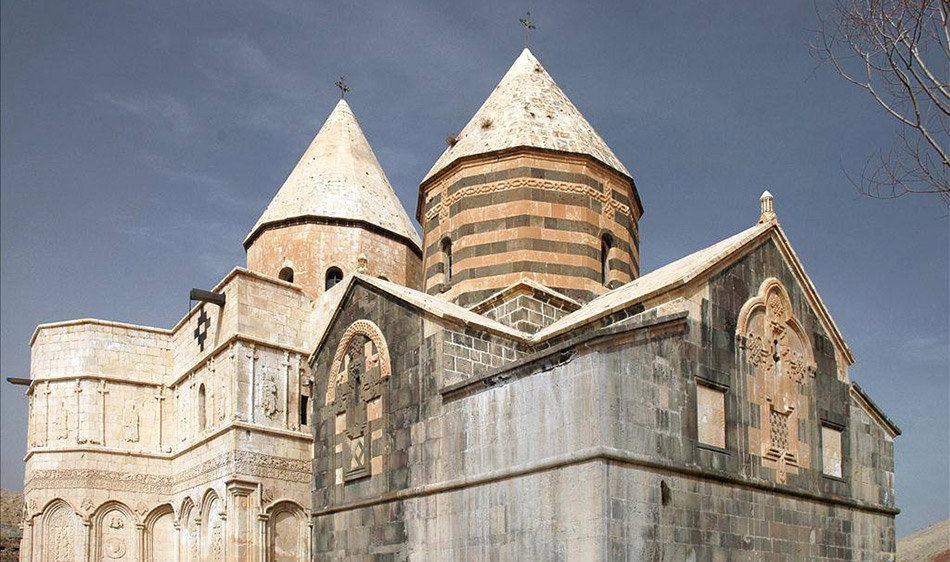 In fact, this World Heritage Site of Iranians is the first cathedral in the Christian world. The spacing technique applied in it is at its best in its time. The exterior walls have given the appearance of a fortress to it, particularly because of its five watchtowers protecting it from all directions.
St. Stepanos Church is another monument in the Armenian Monastic Ensembles of Iran, which is considered the second most important Armenians' church in Iran after Kara Kelisa. It has got its name from Stephanos or Stephan, the first Christian martyr who was stoned to death in Jerusalem by Jews.
Of course, there are several churches by this name in the world. On the other hand, this monument is also known as Kharaba Kelisa (ruined church) do the large damage it has received. The architectural style of this church in a combination of other styles namely, Urartu, Partian, and Roman. After this style was applied to several churches, people began to refer to it as "Armenian Style". Although the date of its construction isn't clear, experts recognize it as built simultaneously with "Holy Cross" churches because of its materials and decorations.
The exterior walls are, like those of other early Armenian churches, decorated with bas-reliefs, the effigies of saints and a lively frieze of vine leaves and animals on the newer building being particularly striking. Ruined buildings within a walled compound adjoining the western fortified walls indicate that a considerable monastic settlement once existed there.
There are a few Urartian sites around Maku and to either side of the road to and from Orumieh to the south, but none of these can be easily reached from Maku. If you are interested, you could hire a taxi to the small Urartian citadel or Sangar about 10 km to the west of Maku, just to the north of road to Bazargan.
Tags:
Black Church
,
Chaldoran
,
historical
,
historical-place
,
Kara Kelisa
,
kelisa Chaldoran
,
Qara Kelisa
,
tour oprator
,
tour package
,
touragency
,
travel agency
,
travel company
,
Western Azerbaijan Province
,
قره کلیسا
,
کلیسا چالدران