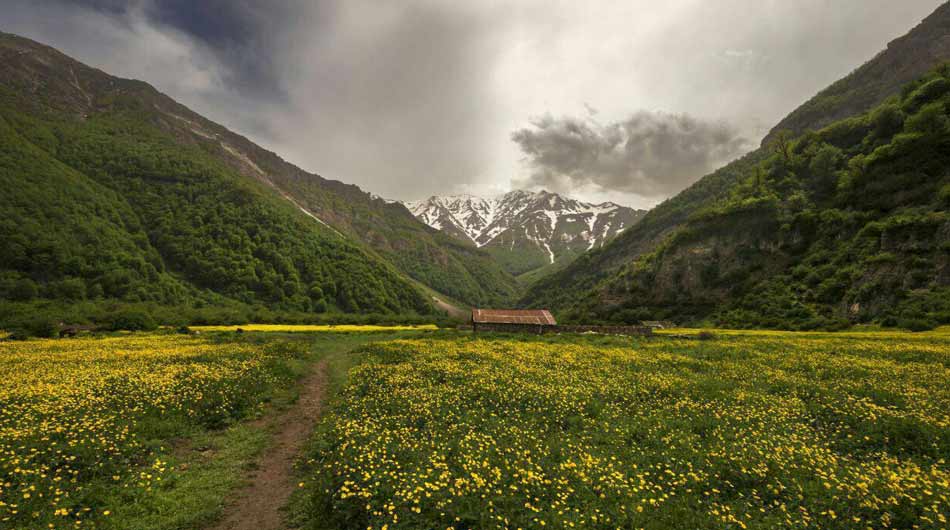 Daryasar Plain in Tonkabon is one of the most beautiful attractions in northern Iran. It is considered an attractive destination for nature enthusiasts and camping lovers due to its unique beauty and the natural wonders it showcases in every season. This plain serves as a border and a connecting point between the lush forests of northern Iran and the glaciers of the Alborz mountain range.
Daryasar Plain, located in the south of Tonkabon and in the Dohezar region, is surrounded by four mountains. The highest mountain, Mount Almut, encircles the plain from the southwest. Furthermore, the plain is limited to the west by Sialan Strait, Kheshchal and Kandigan Peaks, and to the east by Taleghan.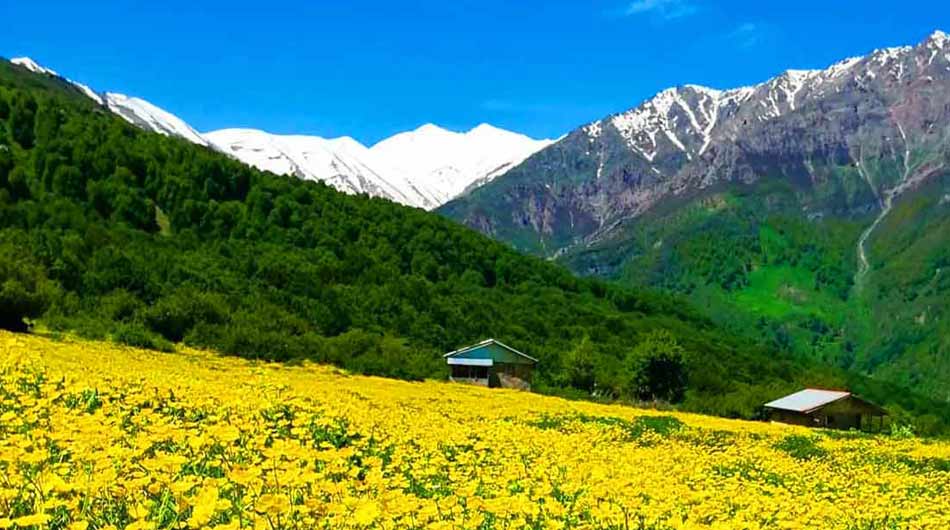 Daryasar Plain is one of the tourist attractions in Mazandaran province, and due to its strategic location, it offers unique landscapes throughout different seasons. During the spring, especially in the month of Ordibehesht (April-May), the plain is adorned with yellow chamomile flowers, captivating the eyes of any beholder. One of the most interesting features of this plain is the presence of numerous springs that gush water among the greenery. It is difficult to find a dry spot in the plain during spring, and what is even more captivating is the presence of a flowing river, originating from the Sialan heights, running through the vast plain.
All these beauties, along with the mountains covered with dense forests surrounding the plain, and the Sialan Peak with its majestic glaciers, justify calling Daryasar Plain the paradise of Ordibehesht (the Iranian spring). The presence of towering mountains such as Tang-e Lat Kanban, Siyah Kol, and Kalatela, as well as the forests of Azgil and Aluche, add to the unique attractions of this plain.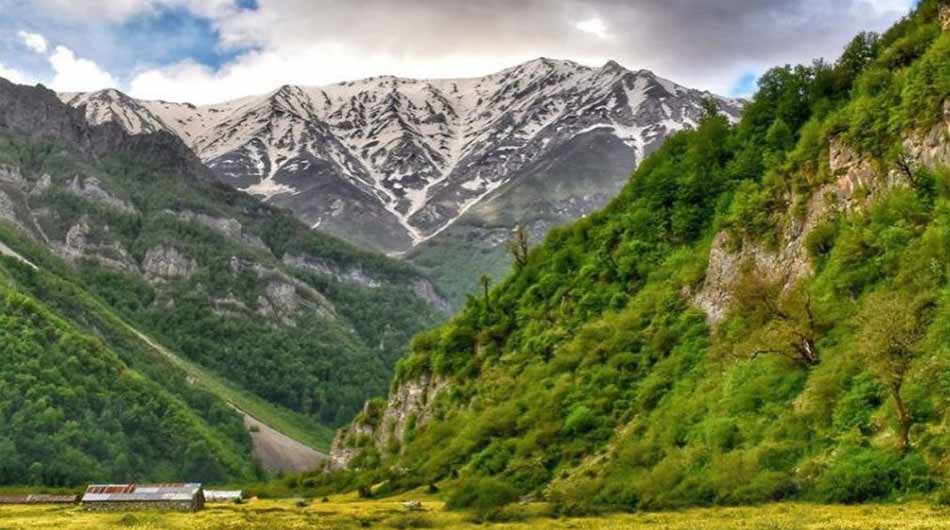 The tall mountains that enclose Daryasar Plain provide a suitable location for mountaineering enthusiasts. Sialan Peak is one of the well-known mountains in the plain, accompanied by natural glaciers. This peak, with an altitude of 4,185 meters, is situated in the western Alborz mountain range, on the border between the Alamut Valley and the Dohezar Valley. Tang-e Lat Kanban, Siyah Kol, and Kalatela are other mountains surrounding this plain.
Furthermore, due to the low light pollution, stargazing is one of the most fascinating activities when visiting this beautiful plain. In Daryasar, you can easily observe the stars and witness meteor showers. The flat lands of Daryasar Plain provide the best location for picnicking or even camping.
The nearest city to Daryasar Plain in Mazandaran is Tonkabon, which is approximately 35 kilometers away. If you don't plan to camp and stay overnight in Daryasar, you can visit it for a day trip and spend the night in hotels in Tonkabon.
Tags:
about iran
,
Caspian Sea
,
Chalus
,
Daryasar Plain
,
Dohezar region
,
dorna gasht
,
iran attractions
,
Iran city tour
,
iran daily tour
,
Iran private tour
,
Iran sightseeing tours
,
iran tour
,
iran tour operator
,
Iran tour packages
,
Iran tours
,
Iran travel agency
,
iran trip packages
,
Iranian tour operator
,
iranparadise
,
Kalatela
,
landscape
,
Mazandaran
,
Miankaleh Wetland
,
Nature
,
north of Iran
,
northern provinces
,
Ramsar City
,
Siyah Kol
,
tonekabon
,
Tonkabon
,
tour agency
,
tour operator
,
tour package
,
travel
,
travel agency
,
travel company
,
travel to iran
,
trip to iran
,
تنکابن
,
جاذبه های گردشگری مازندران
,
درناگشت
,
دشت دریاسر
,
مازندران