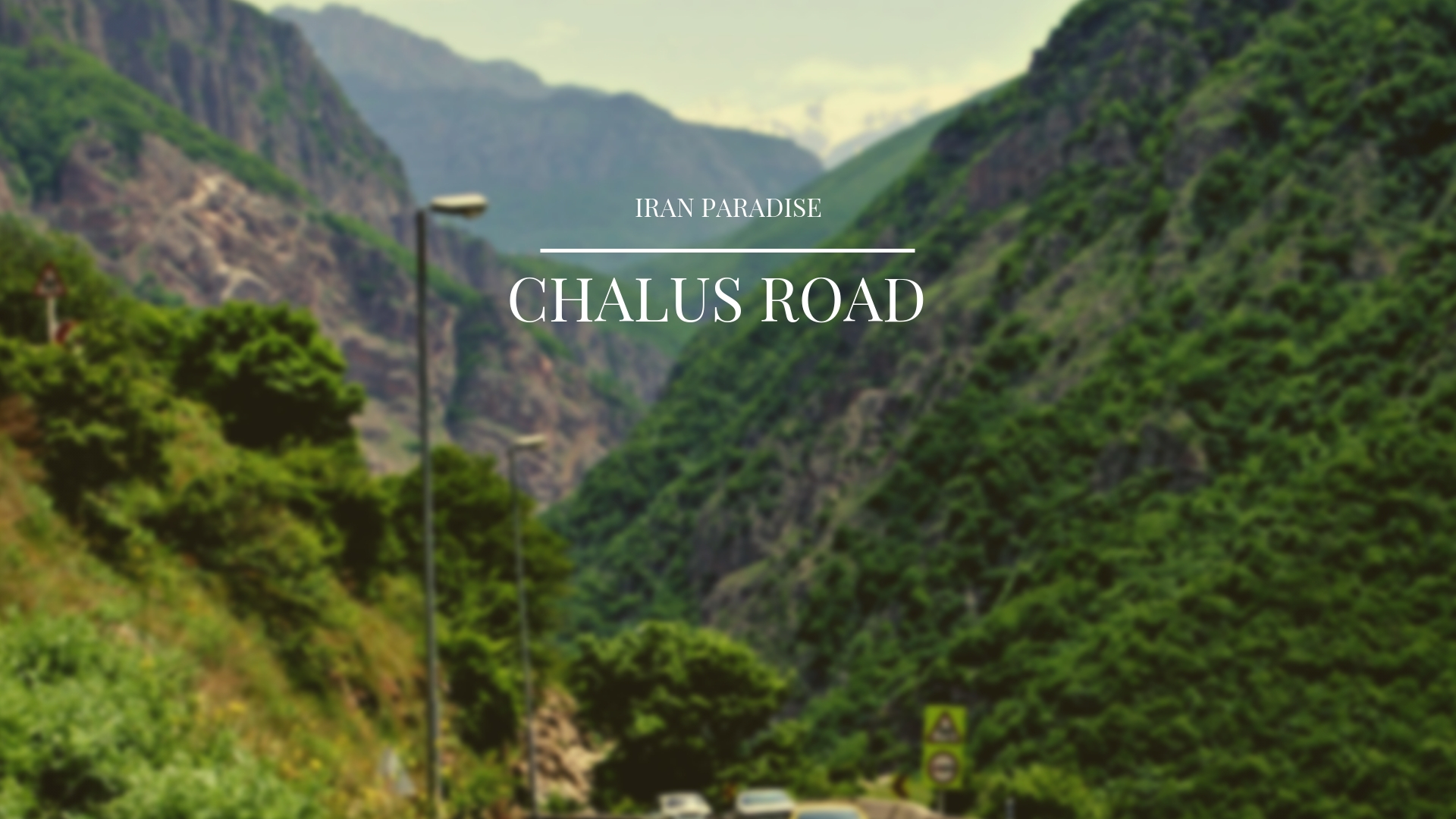 Chalous Road, officially known as "Road 59", is one of the most important roads for people from Tehran and Karaj, which begins in Alborz Province and goes to Chalous County in Mazandaran Province. Some consider this road as one of the most beautiful roads in the world. Chalous-Karaj Road displays a unique landscape and spectacular view. It is one of the most popular roads leading to the north of Iran. So Thursday and Friday are not suggested to come toward Caspian Sea by this road. That is why the road is sometimes mobbed with passengers during holidays. This road is one of the busiest roads in Iran.
This road, which displays a variety of sceneries from green to snow clad surroundings to rocky mountains in the north, is usually open all year, but during winter months, it can be closed when the access is not cleared of snow. In winter, avalanches and heavy snowfalls can sometimes block some sections of the road and can be extremely dangerous due to frequent patches of ice. The road is in dreadful condition and requires strong nerves to negotiate it. Any barriers along the edge afford little more than token protection; large stretches should be taken at a snail's pace and a lookout kept for vehicles coming from the opposite direction! The road's winding design, providing stunning panoramic views, is very curvy and fun for a leisurely ride, so it pays to take it slow. Exercise extreme caution when passing on-coming traffic, over-taking and around corners.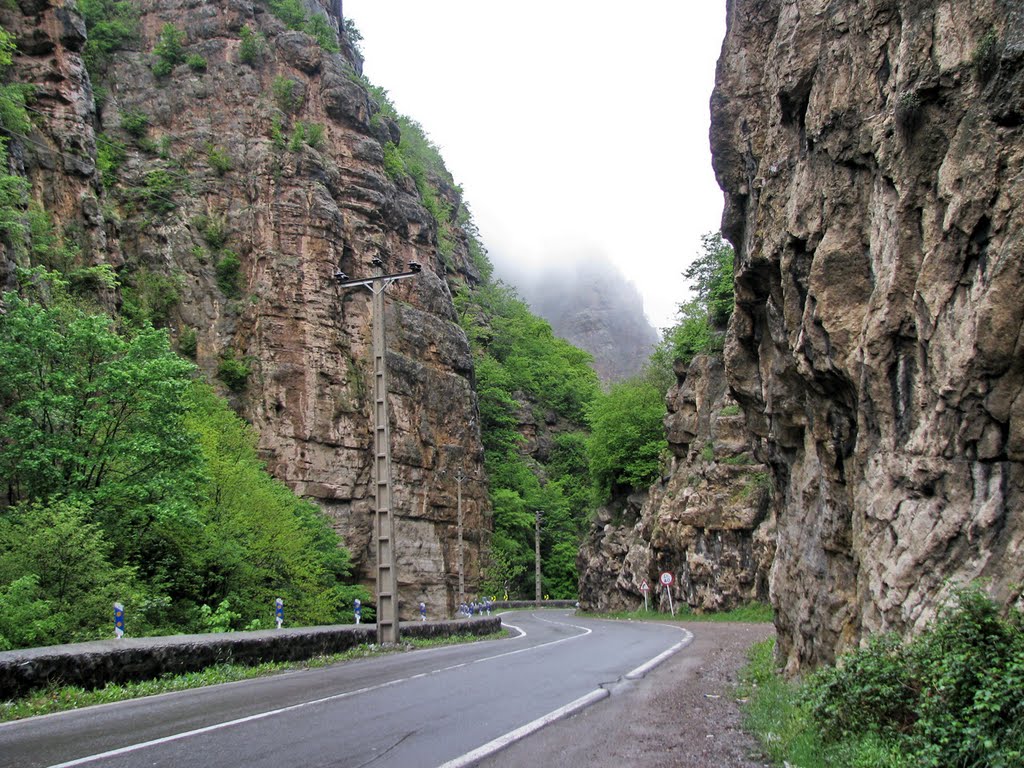 Chalous Road passes through many canyon sides and it is one of the most beautiful mountain roads in Iran, it is also famous as canyon road among travelers. One of the best attractions is to visit south part of Alborz mountain range, beside Karaj River. Many tunnels and finally a great landscape of the canyons and waterfalls is finished by a pristine view of Hyrcanian mixed forest. The road is beside two long rivers; Karaj and Chalous. Karaj River leads to Namak Lake while Chalous River is continued to the Caspian Sea.
There are two basic dams in the way that are used to generate hydroelectricity. Amirkabir dam is located in Alborz Province and often the entire water of its reservoir is piped and used for Tehran city. Siah Bishe is another dam in Mazandaran Province.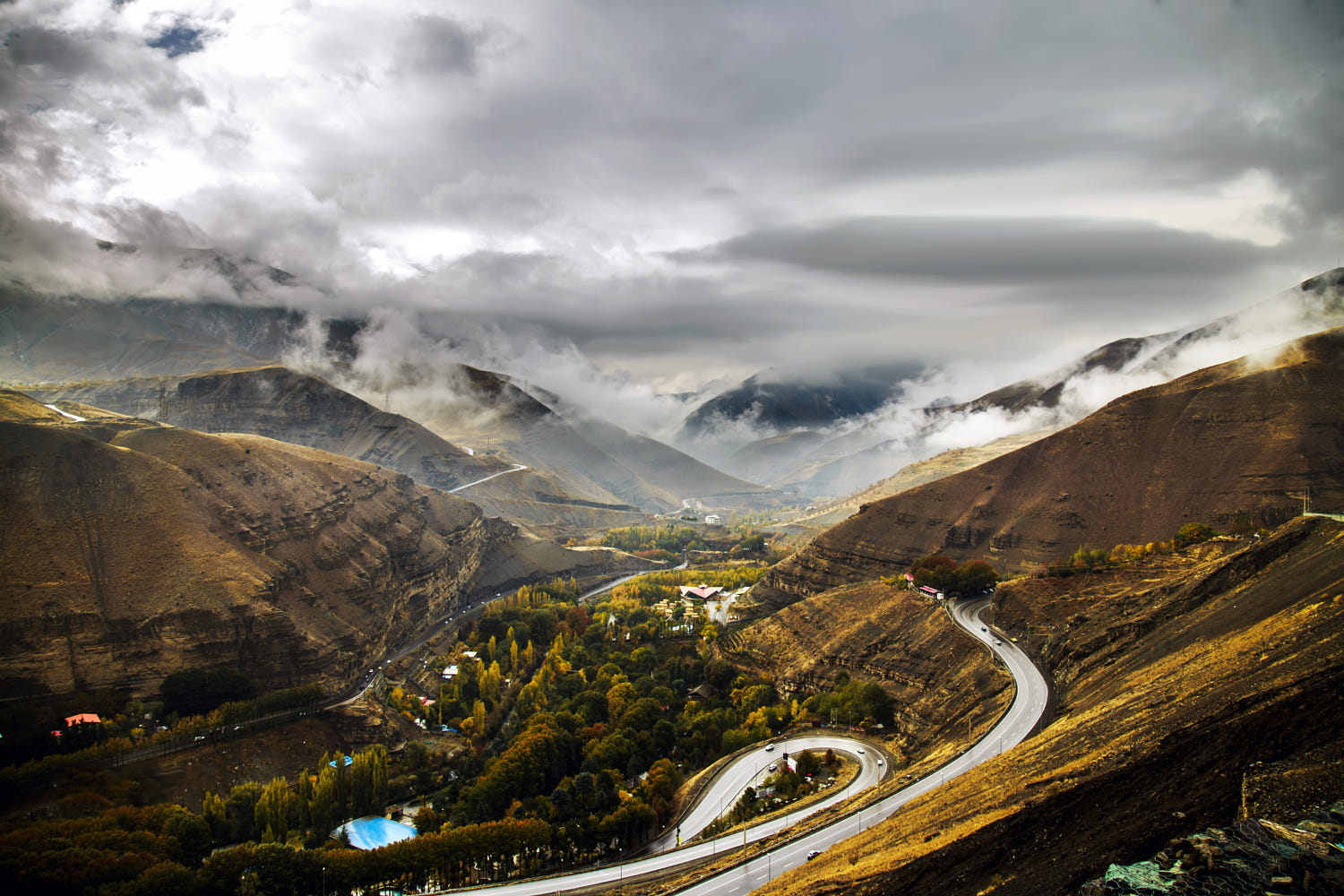 The best season would be autumn or spring. They both guarantee spectacular views. One filled with colorful red, yellow and orange tones and the other with marvelous greenery. Waterfalls and rivers will be in sight and chances witnessing untouched white snow is high. Checking weather conditions before departure is a must. This road can easily be closed to public during the winter time as avalanches and heavy snow falls are not rare. Chaining up in winter is almost a must. On certain days you will not even be granted access if you don't have them. Even if it's not super cold, having them back in your trunk is mandatory.
Tags:
Alborz
,
Alborz mountain
,
Amirkabir dam
,
beautiful mountain
,
Caspian Sea
,
Chalus
,
Chalus road
,
colorful
,
colourful
,
Hyrcanian
,
Hyrcanian forest
,
Karaj
,
Karaj River
,
Mazandaran
,
Road
,
Siah Bishe
,
Tehran
,
waterfall