The Armenian monastic ensembles of Iran, in the northwest of the country, include three monastic ensembles of Christian faith: St. Thaddeus and St. Stepanos and the Chapel of Dzordzor. These edifices ― the oldest of which, St. Thaddeus (Kara Kelisa or Qara Kelisa), dates back to the Seventh Century CE ― are examples of outstanding universal value of Armenian architecture. They serve as testimony of very important interchanges with the other regional cultures, in particular the Byzantine, Orthodox and Persian.
This is an exclusive Iranian tangible cultural heritage site of Christian faith. The Armenian Monastic Ensembles of Iran have been inscribed as World Heritage Sites by UNESCO.  The remnants of all the three buildings are quite impressive and worth visiting. They have been restored during various eras. Many Armenians from all around the world come to Iran to visit these sites every year.
Kara Kelisa or Qara Kelisa is one of the Armenian Monastic Ensembles of Iran which is located in Chaldoran town, Western Azerbaijan Province. In fact, they have built the building of this Iranians tangible cultural heritage on the tomb of St. Thaddeus, one of the apostles of Jesus. The correct name of this monument is Kara. In Azeri, it means large and all-inclusive. Gradually, it has changed to Qara.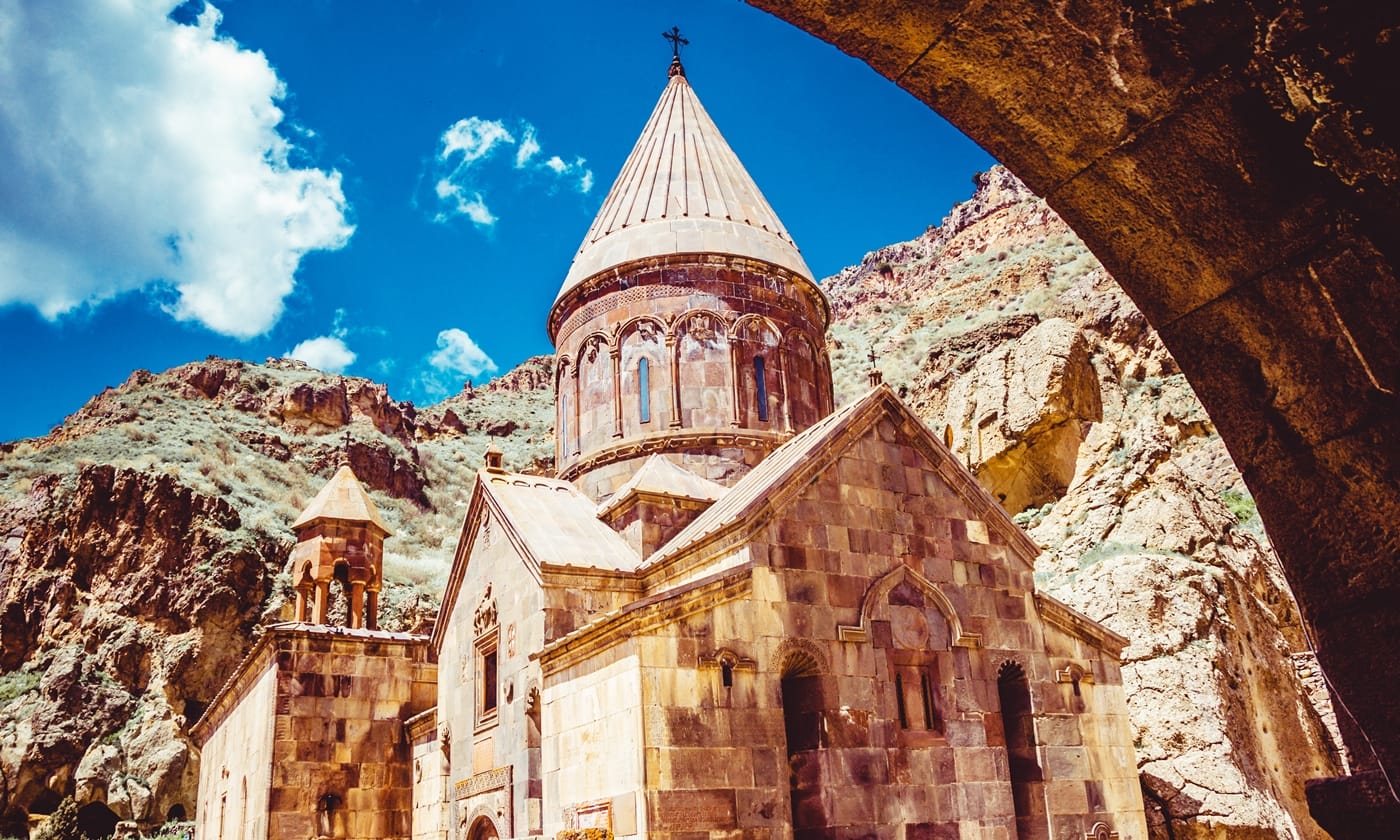 Mongol invaders destroyed a large part of this monument, but Khajeh Nasir Al-Din Al-Tusi restored it during Halaku Khan, the Mongol ruler. He was a Persian polymath, scientist, philosopher, architect, physician, and theologian.
In fact, this World Heritage Site of Iranians is the first cathedral in the Christian world. The spacing technique applied in it is at its best in its time. The exterior walls have given the appearance of a fortress to it, particularly because of its five watchtowers protecting it from all directions.
St. Stepanos Church is another monument in the Armenian Monastic Ensembles of Iran, which is considered the second most important Armenians' church in Iran after Kara Kelisa. It has got its name from Stephanos or Stephan, the first Christian martyr who was stoned to death in Jerusalem by Jews.
Of course, there are several churches by this name in the world. On the other hand, this monument is also known as Kharaba Kelisa (ruined church) do the large damage it has received. The architectural style of this church in a combination of other styles namely, Urartu, Partian, and Roman. After this style was applied to several churches, people began to refer to it as "Armenian Style". Although the date of its construction isn't clear, experts recognize it as built simultaneously with "Holy Cross" churches because of its materials and decorations.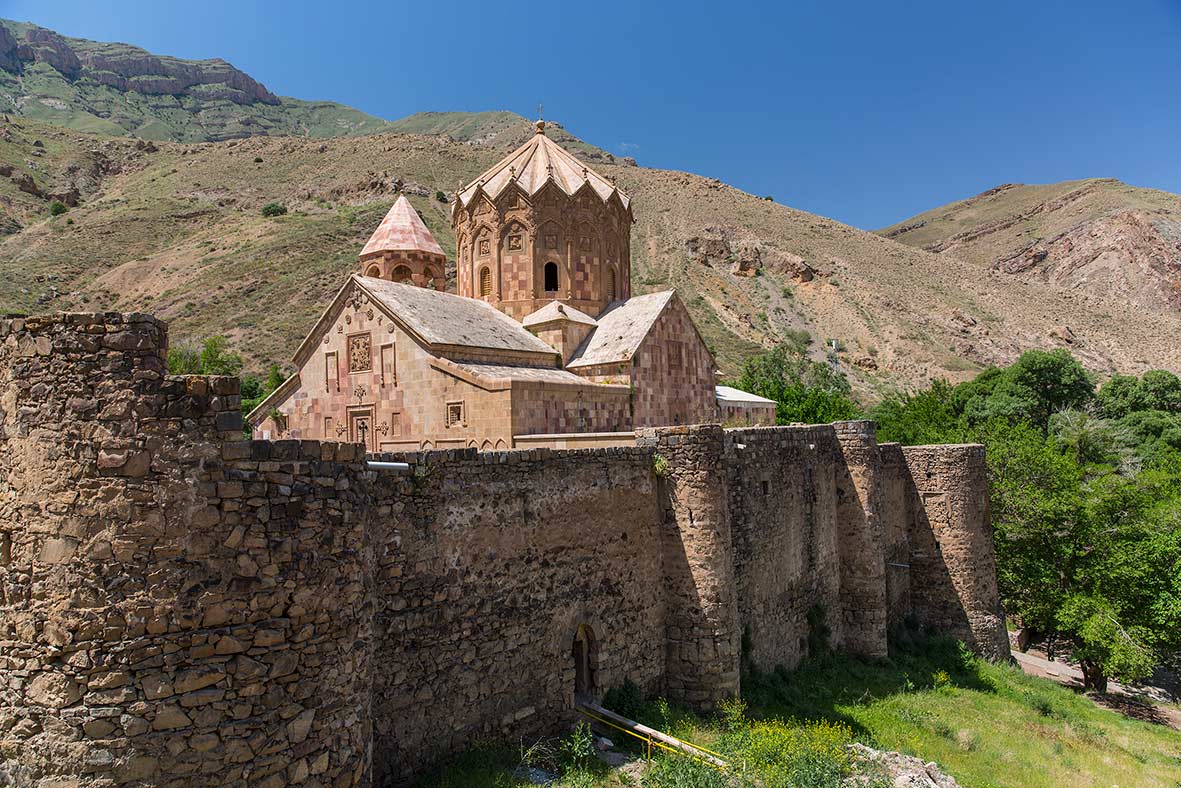 The experts of Cultural Heritage Organization of Iran launched a restoration project in this monument in 2005. They discovered some bones between two arches, which presumably belong to the apostles and Christian Saints. According to Tehran's Armenians archbishop, these bones could belong to the corpse of Saint "John".
It will be noteworthy to refer to some of the features of St. Stephanos Church. The entrance door of the chapel is decorated with inlaid word-work, which is an exquisite work of Qajar era, 19th century. The architect has decorated the soffit fascia with reliefs of The Apostles, angles, and saints. Undoubtedly, the carvings, soffits, moqarnas, and half-pillars are architectural masterpieces. It has got a conical done on a 16-sided structure.
The interior space is in Basilica style including an Eyvan, a chapel and an altar. The "Bell Tower" inside an octagonal dome is situated on a two-storey eyvan attached to the southern wall. Inside the tower and at the lower side of this dome, there are beautiful freezes decorating the interior walls with motifs and patterns as well as eye-catching images of the Virgin Mary and Baby Jesus.
A corridor called "Daniel's Oven" is also attached to the northern wall of the church. Daniel is one of the saints of the 5th century. It has a raised platform, which contains the stone slab for baptizing.
Next to this Iranian World Heritage Site, there is a Monastery as old as 900 years. It used to accommodate pilgrims and the travelers passing by.
Chapel of Dzordzor monument has been built by "Zakaria", the archbishop of St. Thaddeus Church. It is the last monument in the list of The Armenian Monastic Ensembles of Iran. It is in Maku town, Western Azerbaijan. The construction date of this church goes back to approximately some date between 1315 and 1324. It has been built on a cruciform plan and carved out of stone in various volumes with false columns and lancet arches.
It must be mentioned that Iranian Armenians hold special ceremonies in these places at the end of June each year, particularly in Kara Kelisa. They invite the ambassadors of Christian countries. Moreover, many Armenians participate in these events from all across the globe. It is also possible for all Iranian and international enthusiasts to take part in these ceremonies.
Tags:
Armenians
,
Azerbaijan
,
Baby Jesus
,
Basilica
,
Bell Tower
,
Chapel of Dzordzor
,
Christian
,
Daniel's Oven
,
Eyvan
,
Holy Cross
,
Iranian World Heritage Site
,
Kara Kelisa
,
Persian
,
Qajar era
,
Qara Kelisa
,
St. Stepanos Church
,
St. Thaddeus
,
St. Thaddeus Church
,
Tehran's Armenians archbishop
,
the tomb of St. Thaddeus
,
UNESCO
,
Virgin Mary
,
Zakaria