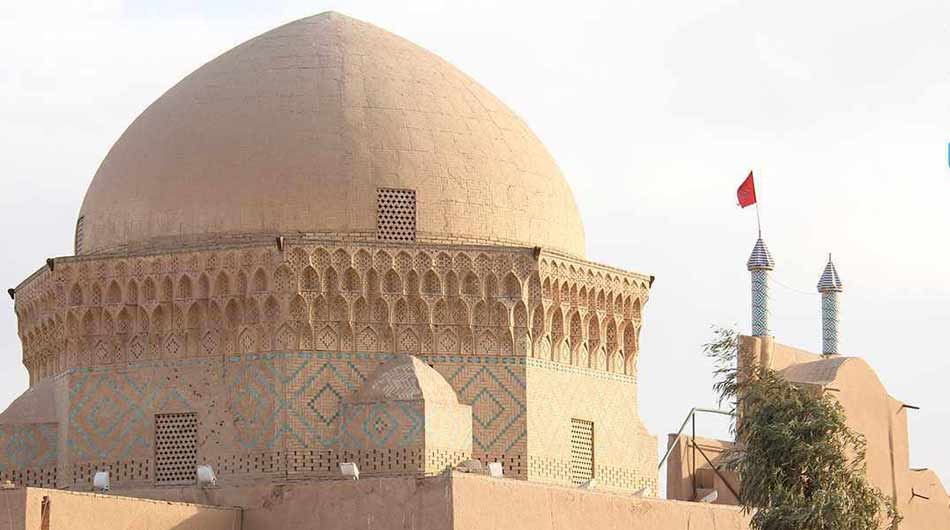 Alexander's Prison (locally called "Zendaan-e Eskandar"), is a legendary place named after Alexander the Great, also known as Alexander of Macedonia, who overthrew the Persian Empire in about 330 BC. The mysterious place is located in one of the old neighborhoods of Yazd, in central Iran. However, as a modern visitor, what you see is like a centuries-old domed building made of bricks, clay, and mortar; it does not match a prison or so at all.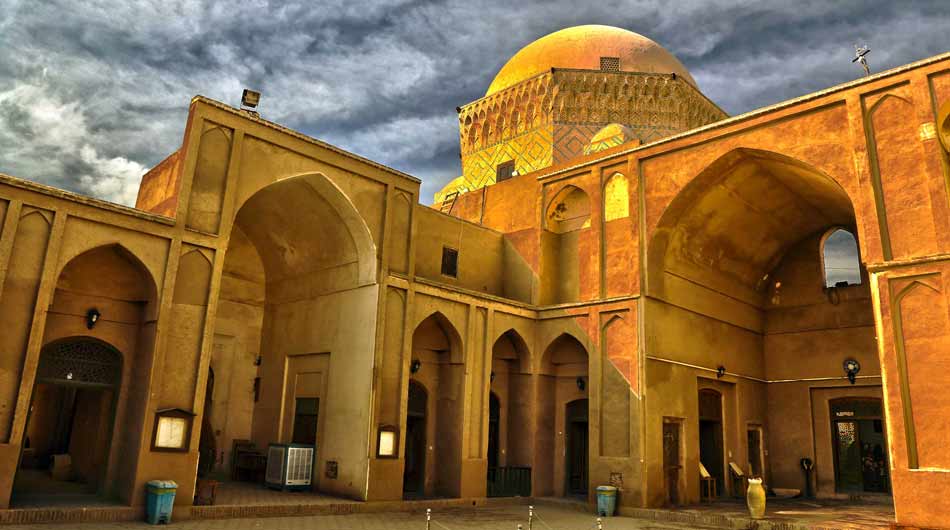 Located in the old Fahadan Neighborhood, the structure of Alexander's Prison alongside its clay dome tinted with golden and azure watercolor is a mysterious place. The place is actually a combination of a school and a mosque and has nothing to do with prison or Alexander the Great. However, many believe that the school was named Alexander's prison for the reference Hafiz has dropped in his poem about this area.
Alexander's Prison is actually the former Ziaeie School which was built by Zia Addin Hossein Razi 8 centuries ago in 631 (Islamic Calendar). There used to be teachers and students sitting in classrooms around 700 years ago.It is widely believed that Alexander's expatriates in Yazd used to be kept here. It rationally makes sense as Yazd was by then a faraway city and quite deserted in comparison to big cities. On the other hand, some others think that the school was transformed into prison when Alexander attacked Iran. They say it was a place for keeping the governmental characters of the time.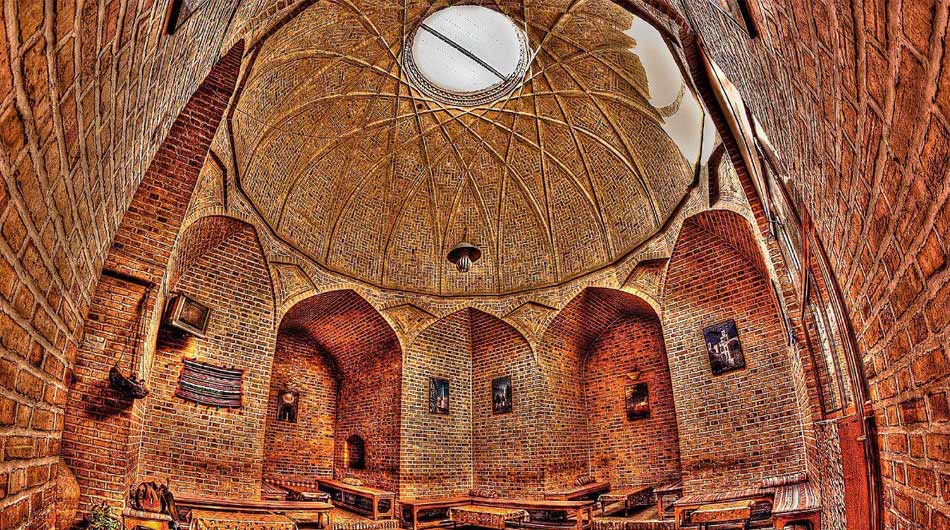 The complex, however, contains a deep, circular, brick-lined pit almost 10 meters in diameter resembling an ancient dungeon found at the heart of the old. During pre-renovation studies, the hole turned out to have emerged due to underground water pipe network construction. As a result, it not only rejects all the thoughts about prison but also can be a representation of proof of Iranian intelligence even in ancient times. Because it shows that Iranians were making attempts for a way to distribute water in a desert-like city of Yazd.
There is also a well and some nooks in the courtyard.The most vigorous account arises from a reference to a poem of Hafez, the industrious 14th-century Persian poet Khwaja Shams al-Din Muḥammad Ḥafeẓ-e Shirazi, known by his pen name Hafez .According to the legend, a deep well in the middle of the courtyard of the structure was in fact built by Alexander the Great and used as a dungeon.Some locals say that Alexander's Prison, or the Zia'iya school in the Fahadan neighborhood of Yazd, was built on the request of Alexander the Great, during his invasion of Iran, centuries before the complex being modified and reconstructed as a school.
The style of architecture of this place is also known as Moghol or Iranian-Moghol style. Sun-dried brick was the only component of the materials used. But later on, when the dome was reconstructed by Ostad Akhoond Khorrami, kiln-dried bricks were also used. In the middle of the yard, you will notice a water well with a 5-meter depth. There is a room on one of the corners of the yard that is called a windward room. You can enter the room and enjoy the cool wind. There used to be two tall minarets and a yard full of trees as well as a library and public bath across from it that are now totally destroyed.
In 2006 for the first time, Cultural Heritage authorities undertook an elaborate program to treat Eskandar Prison with pesticides to negate the threat of termites. Eskandar Prison is a registered Iranian National Heritage. With its winding lanes, the forest of badgirs (wind catchers), mud-brick houses, atmospheric alleyways, and centuries of history, Yazd is a delightful place to stay, referring to as a 'don't miss' destination by almost all travel associates in the region.
Tags:
Alexander Prison
,
Alexander's Prison
,
Eskandar Prison
,
historical-place
,
tour agency
,
tour operator
,
tour package
,
travel agency
,
travel company
,
Yazd
,
Yazd city
,
yazd province
,
Zendaan-e Eskandar